Keith Parkins | 27.11.2006 16:02 | Repression | Social Struggles | Liverpool | London
Council turns blind eye to empty property and worse still condones a housing association that deliberately vandalises empty maisonettes to render uninhabitable.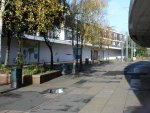 Farnborough town centre packed with Christmas shoppers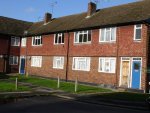 Firgrove Court kitchens, bathrooms and boilers ripped out
Across the country, there is large amounts of property sitting empty. Often, as in Liverpool or Farnborough, it is deliberately made empty to blight an area to drive people out. Social cleansing as it has been described in Liverpool.
The Department for Communities and Local Government has estimated that there is around 680,000 homes sitting empty in England, of which half are long-term empty properties, ie have been empty for six months or more, and a significant number have been abandoned for years. Halifax estimate nearly 300,000 homes have been sitting empty for more than six months. Empty homes are a wasted resource, and everything possible should be done to bring them back into use. Local authorities possess the powers to bring these properties back into use, powers which should only be used sparingly and as a last resort. But as with any powers, there is always the possibility of the powers being misused and abused.
More than eight years ago, Farnborough town centre was bought by KPI (a Kuwaiti-financed front-company of property developer St Modwen, a company with a track record of destroying town centres). KPI has driven out retailers and residential tenants, the town centre now lies semi-derelict and has been in this state for some years. KPI has planning consent to redevelop the area, demolition to build an unwanted superstore, and demolition of a housing estate of social housing for the car park for the superstore.
The area is blighted. Such is the derelict state of the town centre, that at at a time when other town centres are choked with Christmas shoppers, all the car parks overflowing, Farnborough is offering free car parking in all the town centre car parks in the weeks leading up to Christmas.
On a rough estimate, there are 40-50 flats lying empty above the shops in the town centre. A further dozen or maybe more maisonettes lying empty at Firgrove Court, the small estate of social housing, owned by Pavilion Housing Association and earmarked for demolition for the car park for the unwanted superstore.
The local council knows these properties are lying empty, but at best turns a blind eye, at worst, condones and encourages what is happening.
All councils, and the Rotten Borough of Rushmoor is no exception, have a policy to bring empty property back into use. How that policy is implemented, it is not implemented fair and equitable across the borough as is claimed by the council.
Councils have a responsibility to identify empty properties and bring back into use. They should enter into dialogue with owners, and if no progress is made, and only if no progress is made, resort to the use of statutory powers.
A CPO can be served. This enables a Council to seize a property, but only if to do so is in the wider public interest.
The Housing Act 2004, granted a new power, an EDMO, which allows a Council to take over the management of residential property and bring back into use if has remained empty for six months or more. This is done by means of an Empty Dwelling Management Order. The Council itself cannot serve a EDMO, it has to apply to an independent Residential Property Tribunal.
There are two types of Order – an interim EDMO and final EDMO. These allow a local authority to secure occupation and proper management of privately owned houses and flats that have been unoccupied for a specified period of time and where certain other conditions are met. The council must apply to an independent Residential Property Tribunal to authorise the interim order which precedes the final EDMO. The local authority may not sell the property but can carry out works to make the property fit to occupy and can also let the property. With an interim management order permission of the owner is required for letting, however when a final management order is made the council can let the property without the permission of the owner.
Internal e-mails from the Rushmoor housing department and their practice, show they are more interested in targeting the little guy, who may be doing up a property to retire into, as has been the experience of David Stevens, rather than hitting the big guys.
David Stevens has a bungalow, he wishes to retire to. The Council, having been tipped off by an ex-councillor who lives two doors away, decide to seize it.
Before entering into any discussion with the owner David Stevens, before the Council even knew who the owner was, the council was trying to interest Pavilion, a local housing association and owners of Firgrove Court, into acquiring the property.
A member of the Rushmoor cabinet that took the executive decision to serve the CPO on David Steven's bungalow is under investigation by the Standards Board for failing to declare a prejudicial interest. If found guilty he could be barred from serving as a councillor.
Internal e-mails show the council was interested in properties to serve CPOs on.
But this only applies to the small guys, not the big guys.
Property has been sitting empty within the town centre and at Firgrove Court for years.
Internal e-mails within the housing department show that as far back as 2000, they were aware of the empty flats above the shops in the town centre and that pressure should be brought to bear on KPI to bring them back into use.
In 2004, Rushmoor head of housing Alison Whiteley was asked how many empty properties there were in Farnborough town centre and what was she doing to bring them back into use.
At first she claimed there was none. Asked to try again she claimed half a dozen. Asked to try again, she came back with a figure running into double figures, but claimed it was not worth bringing back into use as too costly for the public purse, and in any case the town centre was due for demolition.
When Whiteley made her statement in 2004, KPI did not have planning consent, thus she prejudiced the planning decision.
At Firgrove Court, Pavilion has deliberately rendered empty properties uninhabitable by ripping out kitchens, bathrooms and boilers. More properties were again vandalised the middle of this month.
Earlier this month, the housing department were once again asked about the large amount of property lying empty within the town centre and at Firgrove Court, and what they intended to do to bring it back into use.
It was claimed it would be too costly for the developer KPI to bring the flats above the shops back into use and the area was scheduled for regeneration in the New Year.
It is KPI who have allowed the flats to fall into disrepair, so it is only reasonable they should bear the cost of bringing them back into use. For at least five years, KPI have been claiming they are starting work in the spring, in the summer, in the New Year. They are now claiming they will will be starting in phases in the New Year.
It was claimed trashing the empty properties at Firgrove Court was for the enhanced security of the remaining tenants!
Try telling that to the remaining tenants.
It was claimed it was not worthwhile making property available for short-term use.
Try telling that to the homeless in the borough. Even if the properties were occupied by squatters, they would at least be put to use.
One argument put forward by the council for bringing empty property back into use is that empty property blights an area.
There is no bigger blight on the local environment than the derelict state of Farnborough town centre.
As usual, one rule for the little guy, one rule for the big guy.
It is a mere coincidence that the leader of the council has regular closed-door sessions with the town centre developer KPI and their parent company St Modwen and that the head of housing Alison Whiteley seeks political favours from Pavilion.
It is not only in the town centre that property lies empty. Courtbourn, ten minutes walk from the town centre, lies empty. Courtbourn was until recently an old peoples residential home. All the old folk were kicked out so Hampshire County Council could sell the site to fund the multi-million pound grandiose refurbishment of the County HQ in Winchester.
Peter Sandy, a community activist and Rushmoor councillor, has been put before the Standards Board for England for daring to criticise what is going on. He has recently been cleared by the Standards Board of a number of false allegations made against him by the police.
At Upton Park in East London, St Modwen, with the help and support of the local mayor, is trying to destroy Queen's Market.
Reference
Council moves to bring empty bungalow back into use, press release, Rushmoor Borough Council, 11 July 2006
Empty Dwelling Management Orders: Guidance for residential property owners on new powers available to local councils, Department for Communities and Local Government, May 2006
Mike Lane, The Regeneration Game, 2006 {DVD}
Marcus Mabberley, Council seeks to force owner of derelict home to sell, Farnborough Mail, 18 July 2006
Peter Marshall, Queen's Market - Women's March, Indymedia UK, 30 October 2006

http://www.indymedia.org.uk/en/2006/10/354701.html?c=on
Andrew Milford, Centre legal deal signed, Farnborough News, 24 November 2006
Nearly 300,000 Homes Empty for more than 6 months, press release, Halifax, 21 October 2006
Keith Parkins, Tragedy of Firgrove Court, Indymedia UK, 30 January 2006

http://www.indymedia.org.uk/en/2006/01/332594.html
Keith Parkins, Public Inquiry into road closures in Farnborough town centre, Indymedia UK, 30 January 2006

http://www.indymedia.org.uk/en/2006/01/332595.html
Keith Parkins, Curitiba – Designing a sustainable city, April 2006

http://www.heureka.clara.net/gaia/curitiba.htm
Keith Parkins, Pathfinder hits the buffer, Indymedia UK, 17 October 2006

http://www.indymedia.org.uk/en/2006/10/353777.html
Keith Parkins, Big business to decide future of town centre, Indymedia UK, 30 October 2006

http://www.indymedia.org.uk/en/2006/10/354742.html
Keith Parkins, Peter Sandy cleared of police allegations, Indymedia UK, 27 November 2006
Keith Parkins, Council attempts to seize retirement home, to be published
Shops deal 'is no big deal', Surrey-Hants Star, 23 November 2006
Alison Whiteley, Compulsory Purchase Order (CPO): 12 Chingford Avenue, Farnborough, Rushmoor Borough Council, 11 July 2006
Keith Parkins


Homepage: http://www.heureka.clara.net/surrey-hants/