gdm | 31.10.2006 09:41 | Indymedia | Repression | Social Struggles | Zapatista | London | World
A selection of photos from the IMC screening of Brad Will's final footage at the Mexican Embassy, 30 October 2006.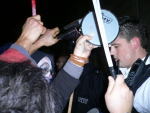 Noise demo as cops obstruct viewing
gdm


e-mail: gdm@fifthhorseman.net


Homepage: http://prevolution.org/gdm
31.10.2006 11:46
I just spoke to a young Spanish woman I met WWOOFing in the UK a few years ago. She is currently out in Oaxaca state working with peasant farmers about 20km from Oaxaca city, working in the fields and learning midwifery. She is a bit removed from the troubles, but describes how the skies above their fields are buzzing with police and army helicopters. Her and a few peasant women got caught up in it taking produce to an Oaxaca City farmers market on Friday and couldn't get out of the city until Monday, she confirms the chaos and brutality reported here, although she also says it comes in waves, as the city "maintains its rythms". In the countryside now they are relying on the university radio station for news now the others are closed. Shes not an activist but she says nobody there thinks the troubles will end until "Ulises go out of government !". She also expressed surprised thanks to IMUK for their demo and said she'd let her village know 'the world is watching', and that that knowledge would help strengthen resistance there. Personally I also think this is the best IMUK demo so far and would like to congratulate everyone who turned up, and encourage more of the same during the Month of the Dead. A big part of the conversation was her having to explain to me the difference between the Spanish festivals and the indigenous Nahua "Fiesta de los Muertecitos", which I can't find a good english-language explanation of on the internet. It is worth pointing out that is is such an important festival things will probably die down there for a few days at least, although that perhaps makes it more important to show more support here.
"In the indigenous Nahua ritual, there were two celebrations dedicated to the dead: the Celebration of the Little Deaths (Fiesta de los Muertecitos), and the Big Celebration of the Dead (Fiesta Grande de los Muertos). These celebrations, besides being dedicated to the dead, also were dedicated to the end of the agricultural cycles. The Spanish celebration of the dead souls is not as intense or festive as that of the Indians. In this tradition. the month of November is called the "Month of the Dead Souls". The only real similarity between this celebration and that of the Indians in México is the dedication of November 2 as a memorial to departed members of the family."

http://modernlanguages.louisville.edu/spanish/daydead/dead.html
Bub

---