Doug. | 30.10.2006 14:10 | London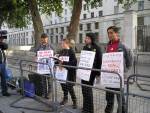 Naming group outside Downing Street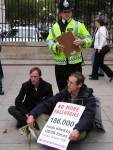 Arrestee, arrester and supporter.
The Naming of the Dead ceremony outside Downing Street was allowed to proceed despite being 'unauthorised' by the police. However, two people were arrested after leaving the Downing Street pen. They had dared to refuse to give their names and addresses.
At midday the tents were being packed up and the names of those who died in police custody were still in place after Saturday's demonstration. A sensitive area for the police no doubt.
Videos to follow.
Doug.