jono | 25.10.2006 02:05 | Education | Cambridge
Students at the University of Cambridge have staged an occupation and demanded that University Vice-Chancellor Alison
Richard stop lobbying for an even higher university tuition fee. They have been in occupation of the Sedgewick lecture block since 6pm. At 10 pm they were threatened with academic discipline by Chief provost Dr. Frank King, who asked them to leave. They refused and have hunkered down for the night.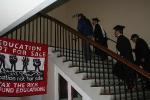 The Senior Provost and his entourage arrive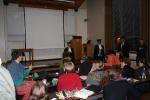 The administration threatens academic discipline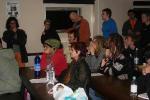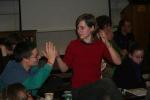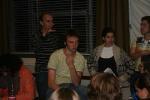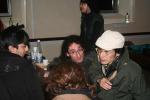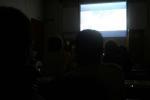 The Autonomous Study Project screens a film (Can dialectics break bricks)
As the occupation kicked off, Cambridge Education Not for Sale issued the following statement:
On the occupation of Sidgwick lecture site in protest at top-up fees
Alison Richard: stop calling for higher fees!
Tax the rich to fund free education!
For a living grant for all!
Cambridge Education Not for Sale are occupying a lecture theatre from
6pm on October 24 to demand the University Vice-Chancellor Alison
Richard stops lobbying for an even higher university tuition fee.
With students already faced with a £3,000 a year bill for tuition, VCs
are demanding huge increases when the cap is reviewed in 2009, with
elite institutions like Cambridge seeking permission to charge up to
£10,000 a year.
The financial situation for many students is already dire; many work
long hours at low-paid jobs to fund their education, with a heavy
impact on academic work. The introduction of the £3,000 top-up fee
this year was a massive blow to education in Britain, making it
impossible for countless young working-class people to enter Higher
Education and effectively deterring thousands more. The 3.7% drop in
applications represents over 15,000 students, equivalent to the whole
of Coventry University disappearing!
Raising the cap on fees will only increase the elitist nature of our
education system. Education is a right, not a privilege for those
whose parents can afford it; it should be a properly-funded, high
quality public service, available to all.
ENS believes that there is only one way to fund a genuinely free and
fair education system - taxation of the rich and business,
redistributing resources from profits and luxury to the education and
other services people need. This is the only demand that can cut
through the government's lying claim that there is not enough money
for public services.
We want to unite students and workers, particularly lecturers and
other campus workers, in defence of public education and against the
privatisation which is affecting education as it is other public
services. We stand against the privatisation and outsourcing of campus
services and in solidarity with all university workers campaigning to
defend and improve their rights.
We welcome the anti-fees action by the National Union of Students and
call on student activists to mobilise for the national demonstration
in London on October 29.
At the same time, we do not think that one demonstration a year will
be enough to stop top-up fees, let alone begin to reverse
marketisation and win the kind of education system students need.
We're calling on activists to take direct action against top-up fees
on their campus. If you are based in or near Cambridge, please come
and join our teach-in at Lecture Room 1, Sidgwick Site.
Cambridge Education Not For Sale
Pictures of the occupation and visit by the Senior Provost and his team are below. Higher resolution images (and more of them) are avialable. For commercial use, please email cambridge[at]lists.riseup.net for permission to reprint.
jono


e-mail: cambridge@lists.riseup.net


Homepage: http://www.cambridgeaction.net