ab | 19.10.2006 12:47 | Analysis | Education | Globalisation | Repression | World
Craig Murray, former UK ambassador to Uzbekistan with over 20 years of foreign affairs experience, talks about torture and human righs abuses in Uzbekistan. He presented his book: "Murder in Samarkand - A British Ambassador's Controversial Defiance of Tyranny in the War on Terror" at the Edinburgh Independent and Radical Bookfair on Friday, 13th of October 2006, at the session on "Political Terrorism and the US Imperial Project".

5 min about a dissident trial in Uzbekistan - mp3 657K

15min about torture and US collaboration - mp3 2.5M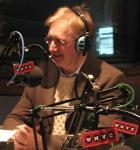 Craig Murray at a radio interview at the community radio station in NYC
On a day when BBC News reports that a third of the world's population supports torture in some cases, it seems important to give you the opportunity to listen to this audio, where Craig Murray talks about human rights abuses and torture in Uzbekistan.
Most importantly, he gives examples about "false-positive" outcomes of torture cases, where people consent to any charges brought forward just to stop the pain on themselves or their families members.

He also gives examples on how Britain and the US support the torture by using the extracted, often false information, to back up their success rate on the War in Terror, and by backing the abusive regime of Islam Karimov.
Read more about torture at
Craig Murray's Blog
. More information about rendition from
Scotland Against Criminalising Communities
. More info also from
Amnesty International
and
Liberty
.
The BBC Video News report that:
"Nearly a third of people worldwide back the use of torture in some circumstances, a BBC survey suggests. But nearly 60% were opposed to the use of torture, even if it was to gain information that could save lives.
The countries in which the population supports torture most, are the countries in which practise torture already, such as Israel with 43 %, China with 37 %, Iraq with 42 % and the US with 36 % (rendition, Guantanamo, Abu Ghraib). The populations who are most against torture in any circumstances are Britain with 72 % and Italy with 81%."

This report hits the news one day after Bush signed the torture bill. Whilst BBC News claims that it would "enshrine defendants' human rights". the American Civil Liberties Union point out, that in fact defendants' rights are taken away.
""The president can now - with the approval of Congress - indefinitely hold people without charge, take away protections against horrific abuse, put people on trial based on hearsay evidence, authorize trials that can sentence people to death based on testimony literally beaten out of witnesses, and slam shut the courthouse door for habeas petitions. Nothing could be further from the American values we all hold in our hearts than the Military Commissions Act."


ab