Peter Marshall | 16.10.2006 19:12 | Anti-militarism | London
The Defence Export Services Organisation (DESO) spends £15 million a year of our taxes selling arms for British arms manufacturers, often to countries with poor human rights records or engaged in violent conflict. We contribute ten times as much to promoting arms sales than promoting civil exports. Always headed by an arms industry executive, DESO gives the arms manufacturers a unique influence over government policies.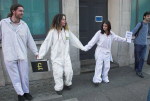 Protestors formed a ring around the DESO building.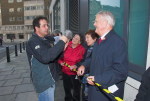 Mark Thomas talks to Bruce Kent and others surrounding DESO.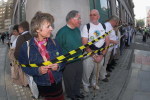 The building was surrounded by around 250 protestors.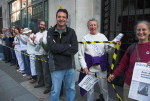 Protestors outside the front door of DESO.
On Monday 16 October, 2006, around 250 protesters, many dressed in white, made a human chain around the DESO HQ in Bloomsbury, just a few yards from the British Museum, and designated the department as a 'global danger zone'. From there, many went to lobby their MPs to close down the DESO. Mark Thomas came and spoke to those demonstrating, adding his voice to those asking for the DESO to be closed down - and making an offer of alternative employment for some of the staff.
For more information on the campaign to shut down the DESO see the web site www.calltheshots.org. The demonstration was organised by Campaign Against the Arms Trade and supported by other groups including the Fellowship of Reconciliation, SPEAK, War on Want, CND, the Liberal Democrats, Plaid Cymru and the Green Party.
More pictures from this event on my web site shortly.
Peter Marshall


e-mail: petermarshall@cix.co.uk


Homepage: http://mylondondiary.co.uk