Peter Marshall | 09.10.2006 22:03 | SOCPA | Anti-militarism | Repression | Social Struggles | London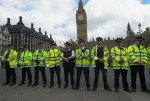 Police line shortly before protestors rushed it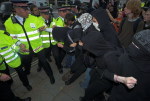 Just after the initial attempt to breach the police line

The police face the demonstrators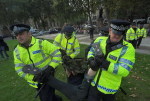 Police carry one demonstrator away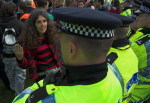 This woman claimed she had no connection with the demo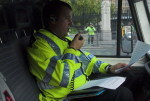 Supt. Terry reads his message telling people they will be detained
As well as this 'Sack Parliament' demo, the usual protests in Parliament Square by Brian Haw and others were continuing. The turnout for the demo (except by police) was so poor that the police gave them a little help by setting on a few people who looked vaguely punk who were in the square and adding them into the corral. They also arrested a number of people who were just standing around and may or may not have had anything to do with the actual demo.
I was very pleased to hear that Marc (the photographer) had been allowed home from hospital. Unfortunately I didn't see the assault on him, but I hope witnesses will be found.
Despite there being so few demonstrators, the media coverage of this event has been very extensive. I will post a fuller account of the afternoon and many more pictures on my web site in a few days time.
Peter Marshall


e-mail: petermarshall@cix.co.uk


Homepage: http://mylondondiary.co.uk