Chris | 11.09.2006 23:37 | Anti-militarism | London | Sheffield
Another set of photos from protest held on the 5th anniversary of the attacks on 11th September 2001 outside the US Embasy in London.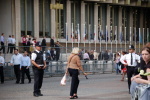 People leaving the Embassy for the official event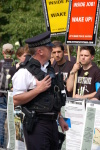 Police eyeing up the protestors
Part one is here:

http://www.indymedia.org.uk/en/2006/09/350486.html
Chris

11.09.2006 23:45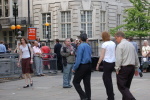 Protesting in sight of the people attending the official event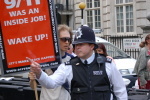 You have to protest over there
The pen that the protest was confined to was more-or-less out of sight of the official events, one guy tried to get his message to a wider audience and was quickly moved back into the pen by the police.
Chris

---
12.09.2006 00:07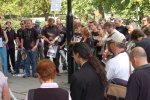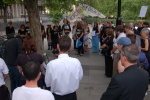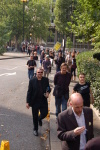 At 2:30 the protestors sang, We Shall Overcome, laid white roses at the foot of a London Plane and held a minutes silence to remember all those killed 5 years ago.
Afterwards the truth protestors walked to Bond Street tube to catch the Central Line to White City to take the protest to the BBC Television Centre.
Chris

---