Camera Boy | 14.08.2006 14:44 | Lebanon War 2006 | Anti-militarism | Cambridge
Despite the soggy weather, this Saturday saw the third in a series of demos take place in Cambridge against the current military agression in Lebanon.

A Quicktime Movie. - video/quicktime 2.5M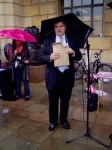 David Howarth accepts (slightly soggy) StWC Petition.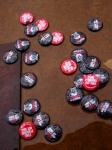 Just as well they're waterproof!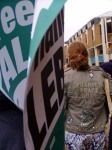 Charity Peace Hope Love...and Lebanon.
About a hundred people turned up in the pouring rain on Saturday afternoon (12/08/06) to make it publically known they object to the current tit-for-tat military campaign underway in Lebanon.
Although there was no march (not even any Police), but there were several speakers, including LibDem Councillor David Howarth, whom publically accepted a petition from Cambridge Stop the War Coalition which he said he'll pass onto 10 Downing Street.
There was also an Israeli activist whom spoke about their experiences of the situation there.
The plan is to build for another demonstration next Saturday (August 19th), with a view to possibly having a march around town as well.
In light of the Israeli demonstrator being shot by their own army, it's even more important now to show solidairity with Isreal and Lebanon's own homegrown anti-war movements.
Camera Boy