Sarah Galloway (pics: eileen) | 11.08.2006 09:04 | Anti-militarism | Oxford
Around two dozen peace activists from all over Oxfordshire, held a dignified protest outside the main gates of RAF Brize Norton on Wednesday 9 August. This was the first of two protests to be held at the base against its use by U.S. planes transporting armaments to Israel. The local group was joined by well-known peace campaigners Kate Hudson of CND and Pat Arrowsmith.We were all videoed to bits, to the disgust of some.The second protest will be held on Saturday 12 July, from 12.00. I have more, but similar, pics if required.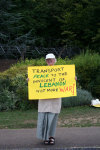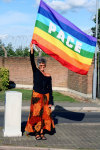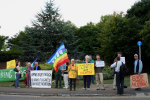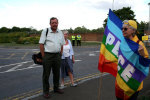 Mr and Mrs Readshaw with Peacenik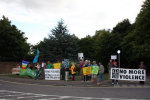 Group with Kate Hudson and Pat Arrowsmith (right)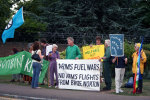 A small but highly effective Peace Vigil was held last night outside the main gates of RAF Brize Norton in West Oxfordshire. The colourful banners and placards proclaimed to passing commuters that this British air base is being used to refuel American transport aircraft taking weapons to Israel.
Thanks to peace activists at Prestwick the Americans no longer have the convenient option of refueling these weapons flights at civilian airports. Wednesday's peaceful protest at the base underlined the role of the British government in the Middle East conflict. Tony Blair is now giving active military support to Israel in their war against Lebanon by allowing these flights to refuel at RAF Brize Norton.
The many passing motorists who beeped and waved in support of the Peace campaigners were a welcome indication of the lack of support for this policy.
A further demonstration organised by Swindon Stop The War Coalition and CND will be held at RAF Brize Norton, Carterton, West Oxfordshire at 12 noon on Saturday 12 August.
Sarah Galloway (pics: eileen)