Stop Blair | 27.07.2006 10:34 | Lebanon War 2006 | Anti-militarism | Health
Tony Blair was in Nottingham yesterday (Wed 26th July) to give a talk on health at the Albert Hall on health. He was greeted by angry protests inside and outside the hall.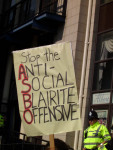 Anti-Social Blairite Offensive
In spite of a large police presence and the blocking of many roads at the rear of the Albert Hall, about 25 protestors gathered to show their anger at Blair and suited delegates about his inaction over Israel's actions in Lebanon, the occupation of Iraq, and his destruction of civil liberties and public services. We were asked to move to 'designated protest area' on the other side of the Maid Marion Way roundabout, for 'health and safety reasons', which we politely declined. It turned out that these reasons, that we would obstruct the pavement or might fall into the road (!) were entirely fabricated, as the remaining pavement was then filled by a cordon of police.
As usual, we were heavily surveilled by police with cameras, camcorders, and by spotters in black from the roofs of nearby buildings. A sympathetic cyclist was stopped and questioned by police for a while for, urm, cycling. Cars stopping on double yellow lines to let delegates out were not. Draw your own conclusions.
Meanwhile Kirk Jackson, a local anarchist, who'd infiltrated the hall, took off his shirt to reveal anti-war slogans painted on his chest, and proceeded to disrupt Blair's fantasies with a speech on Iraq. "I think the view I was putting across represents the view of many people in this country," he said, "I could have kept quiet, asked a question and got a prepared response from the Prime Minister but I wanted to take a bigger stand."
More from the local rag:

http://www.thisisnottingham.co.uk/displayNode.jsp?nodeId=133942&command=displayContent&sourceNode=201398&home=yes&more_nodeId1=133951&contentPK=14996829

http://www.thisisnottingham.co.uk/displayNode.jsp?nodeId=133942&command=displayContent&sourceNode=201398&home=yes&more_nodeId1=133951&contentPK=14996578
And the Beeb:

http://news.bbc.co.uk/1/hi/uk_politics/5215548.stm
Stop Blair

28.07.2006 17:20
Just a person

---