rikki | 21.06.2006 16:52 | SOCPA | Indymedia | Repression
two demonstrators staged a successful spontaneous protest outside parliament today possibly causing blair to take a back route in for pm question time.
steve (who was subject to a violent arrest on sunday - see

http://indymedia.org.uk/en/2006/06/343058.html
) and the incorrigible barbara tucker were to be seen parading outside the gates of parliament this morning as tony bliar was due in for prime minister's question time.
there was heightened security around the area this morning, possibly connected to an earlier incident. two young men, dressed as muslims, were stopped, detained and arrested after driving round parliament square several times in an R reg honda car. sniffer dogs were brought in to check the vehicle and all around parliament square, more than the usual quota of armed police were in the street, and officers and community support officers were placed at regular intervals along whitehall.
a few minutes before bliar was due, barbara and steve took up their position on the public pavement directly between the two gates of parliament. steve was sporting a new placard today with different quotes from those he used on sunday. the placard attracted the interest of passers-by, and at one point a brave tourist held onto it briefly putting himself in danger of being beaten up as steve was on sunday.
it wasn't long before the eagle eyes of two officers spotted the socpa breach, and they went over to inform the inspector who then approached the peaceful duo. barbara has explained to coppers on many occasions before (and at least the thirty times she has been reported to the crown prosecution service with a view to summonsing for unauthorised protest) that she notified them in march, that they had to authorise her protest by law, and that they couldn't impose conditions on her as she didn't match any of the possible reasons for conditions given in the legislation. normally, this explanation doesn't get too far and she gets 'reported' anyway, but today she came armed with a physical copy of her notification.
the inspector studied the document. he wandered away and made phone calls, he looked deep and hard in his blue folder, he returned and asked the duo to leave, but in the end they remained where they were.
the time for bliar to drive in was getting ever nearer. as per usual, police held back the pedestrian traffic along the pavement stretch infront of parliament. they set up a cordon to the left, near the junction with westminster bridge, and over to the right towards (but not as far as) st stephen's entrance. but miraculously, steve and barbara were left where they were!
a decoy car popped in and we waited for bliar, and waited, and waited. then the cordons were removed, the pedestrians flowed along, and the moment was all over. bliar had once again gone in a back or underground route. this is the second time that it appears barbara might have rerouted the prime minister. surely he's not afraid of her little pink banner, reminding him of his lies and his genocide? he has god on his side doesn't he?
today's lesson. if you want to stage a lone demonstration in the designated area, inform the police, explain to them why they can't impose any conditions on you (read the legislation to make sure you fulfil this part), and carry the note with you. then you might avoid getting beaten up like steve did.
once again, a seriously disorganised police farce - total arbritary application of this stupid unworkable law. sunday, police brutality, a night in the cells, charges, court cases, waste of time and money. today, sensible policing and the right to protest restored at the very gates to parliament.
you make sense of it!
rikki


e-mail: rikkiindymedia@googlemail.com

21.06.2006 17:03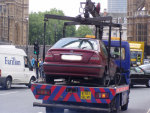 the car that caused security alert earlier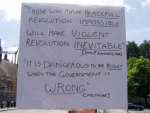 today's placard - two more fine quotes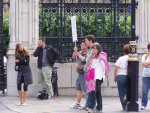 a passing tourist braves possible police brutality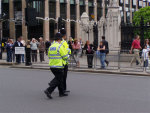 two eagle-eyed officers spot the socpa breach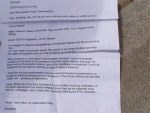 barbara's notification from march 2006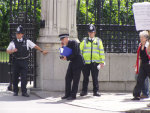 "there's nothing about this in my blue folder"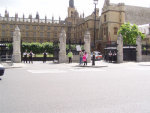 ....and i'm, stuck in the middle....
a photo montage of today's farce
rikki

---