The Shalom Family Campaign for Social Justice | 02.03.2006 12:57 | Education | Health | Social Struggles | Birmingham | London
Banking on 'finance specialists' to secure a loan for an 'extra special treat', seems the 'norm' for most people these days. Vince Shalom of the Shalom Family Campaign for Social Justice made request for a different kind of help, at the 2006 UK National Boat, Caravan and Outdoor Show at the NEC.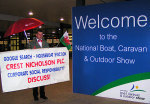 One Man Picket Welcome National Boat, Caravan and Outdoor Show Birmingham NEC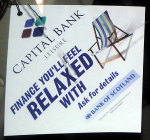 Capital Bank Leisure Finance Some of You Can Relax With!


Black Horse Motorhome and Caravan Finance That's Lloyds TSB Putting Us First?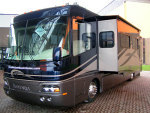 Motorhome Finance Capital Bank Leisure, Black Horse Lloyds TSB Picket NEC 06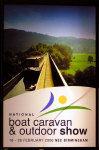 Long Boat at National Boat Show Promoting Another Beautiful Way of Life


National Boat And Caravan Show Promotes Alternative Ways of Living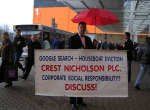 Exiting The National Boat Show Birmingham Mr Shalom Invites Discussion!


The People Are Invited To Crest CSR Discussion National Boat Show NEC 06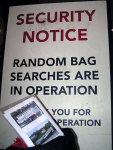 Security Notice NEC Random Bag Search Crest Plc Shafted Family Home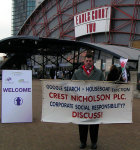 Regenex Conference Earls Court Two Picket for Mr Callcutt Crest Plc Deputy Chair

Regenex Logo/ ART Earls Court Two Exhibition and Conference London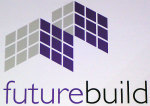 Futurebuild Logo/ ART Earls Court Two Exhibition and Conference London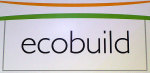 Ecobuild Logo/ ART Earls Court Two Exhibition and Conference London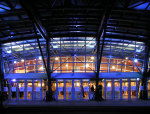 Ecobuild Futurebuild Regenex Co-located Conference Earls Court Two Night Shot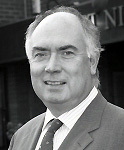 Deputy Chair Crest Nicholson Plc Mr John Callcutt Former CEO Responsible?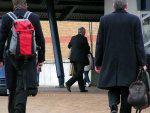 John Callcutt Speaks Earls Court Two Walking Away from Moral Responsibility?
His request, made on behalf of his wife, Marie Louise and their five daughters, Hannah, Naomi, Rachel, Rebekah and Jessica, was presented at the show on a simple six-foot banner. The message reads, "Google Search Houseboat Eviction, Crest Nicholson Plc, Corporate Social Responsibility DISCUSS".
Known 'associations' and supporters of Crest Nicholson Plc, were exhibiting in some form at the boat show. Capital Bank Leisure, is ultimately owned by HBOS via Bank of Scotland. Black Horse Finance is ultimately owned by Lloyds TSB Group Plc. Both companies listed as 'exhibitors' at the show, were, no doubt, hoping to provide finance towards, what for some will be, a second home, and/or, holiday home? The parent companies of both organisations are aware of the official Family Campaign for Social Justice, as the couple attempt to raise the issues surrounding corporate ethical investments.
Crest Nicholson, property developer and house builder, evicted the Family of five children from their own houseboat home in October 2003, from Penarth Marina in Cardiff Bay, Wales. But this was only after the organisation failed to grant 'permissions', for the couple to fix a leak on their home, which had only developed subsequent to a grounding and toppling accident, undisputedly caused by Crest Nicholson.
Crest Nicholson obtained a Court Order during the eviction process, which allowed for the seizure of the Family's home and its entire contents, including the Family's personal private possessions. As if trying to keep it a secret, the seizure operation was performed by the High Court Sheriff at 0300hrs on April 21st 2004. Nothing has been returned to the home-less Family.
In terms of 'Corporate Social Responsibility', and 'Best Business Practice', the Family believe that Crest Nicholson Plc, property developer and house maker, have much to answer for. This is all the more so, as the company has sought to make great public relations gains in supporting charities such as 'Shelter',

http://england.shelter.org.uk/howtohelp/howtohelp-683.cfm
.
an organisation which supports the homeless and more recently, the company is also identified as an official sponsor of The Variety Club Children's Charity

http://www.varietyclub.org.uk/news/viewpress.asp?pid=59
. It would appear to date, that making a Family of five children homeless, seems to cut no ice in terms of 'Social Justice' with Crest Nicholson?
The Family is not alone in their present dim view of Crest. It is a view echoed in the comments of Julia Cleverdon CVO CBE, CEO of Business in The Community, "Crest Nicholson are on what we term a 'journey' with more work to be done in many areas".

http://www.mvpicton.co.uk/julia_cleverdon_business_in_the_community_response.htm
Amid a new, 'way of life' - of chaos, but having successfully attended both weekends of the national boat show, Vince was also able to make similar representations at a midweek conference held at Earls Court Two, in London.
Guest speaker at the 'Co-located' 'Regenex', 'Ecobuild', 'Futurebuild', conference, was Mr. John Callcutt, Deputy Chair of Crest Plc. The Family remember him as Chief Executive Officer of Crest Plc, who was solely responsible for enforcing health and safety in the Crest Group, especially at the time his organisation caused the night time 'grounding accident' to the Family home of 14 years. Marie Louise was also eight months pregnant at the time.
Following a meeting with him, the Shalom Family maintain that John Callcutt expected the local Vale of Glamorgan Council to pick up his organisations' 'mistake'. Crest's marina operation was after all, conducted on Vale of Glamorgan Property and as a business partner with increasingly strong influence in the area, he indicated to the Family, "It's not as if you won't be re-housed!"
Originally listed for a keynote address, "Sustainable Community Regeneration", on day one - of the two-day conference, Mr. Callcutt was switched to day two - to give a presentation, "Balancing Infrastructure Strategy with Physical Regeneration". It is not known why there was an apparent 'switch' to the earlier published programme of events.
The Family have made repeated appeals to a whole host of individuals, and corporate institutions, including but not limited to:-
Mr. Marcel Ospel Chair UBS Bank,
Mr. James Crosby HBOS Plc,
Mr. Gerald Ronson Heron International,
Mr. Eric Daniels Lloyds TSB Group Plc,
Legal and General Group Plc,
HRH Prince Charles President of Business In The Community,
Rt. Hon Tony Blair Prime Minister,
Mr. Rhodri Morgan First Minister for Wales,
Rt. Hon Alun Michael MP.
The Family openly invite debate on the moral legitimacy of the Family Campaign for Social Justice from Corporate Crest Plc. The Family have only ever requested, a "Fair and Just Solution" from those involved, who to date have displayed utter contempt, in terms of respect for Family, Home and Way of Life.
Crest Nicholson and the Vale of Glamorgan Council have established partnership status in conjunction with Crest Nicholson's Penarth Heights - Harbour View and Royal Close Project, in Penarth. A £100M regeneration development project consisting of over 440 residential units. This development area overlooks the marina formerly owned and operated by Crest Nicholson, from where the Family, their home and their beautiful way of life was eradicated.

http://www.valeofglamorgan.gov.uk/Online%20Services/News%20Articles/Developer%20named%20for%20regeneration%20project.aspx
END
All contacts via website.
The Shalom Family Campaign for Social Justice


e-mail: wwwnoahsark@aol.co.


Homepage: http://www.mvpicton.co.uk