Gay Action Media Watch | 11.01.2006 03:05 | Gender | Birmingham | London
Gay human rights and gay rights activist Peter Tatchell has joined the condemnation of Muslim journalist Adam Yosef following deeply offensive comments made by the latter in national Asian newspaper Desi Xpress.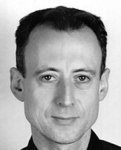 Peter Tatchell has condemned the Desi Xpress article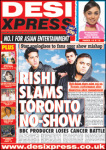 Desi Xpress is a national newspaper read by many Muslims
Peter Tatchell supports Gay Media Watch journalist campaign
BRITISH gay and human rights activist Peter Tatchell has expressed his support for a campaign attacking a Muslim journalist from Birmingham, accused of pandering to homophobia.
The Gay Action Media Watch group launched a campaign against the 24-year-old columnist for national Asian newspaper Desi Xpress after he described same-sex marriages as a front for tax fraud.
In a December issue of the tabloid newspaper (Issue 42), which specialises in Asian entertainment, Mr Yosef stated: "Hmmm...gay weddings... Gay people and committment? I don't think so... They'll be shagg*ng the neighbours before they even cut the cake. Bad idea I'm afraid. Great way of evading tax though..."
GAMW was deeply offended by these comments and alerted numerous gay organisations as a result. It was felt that feeding such views to the younger Asian and Muslim population would encourage and incite homophobia in communities where it is already difficult to be openly homosexual - lesbian or gay. What horrified Gay Action Media Watch the most was that such views would come from someone who also writes for the BBC.
Stewart C Dawson, of Gay Action Media Watch, said: "It is hard for members of the gay community to fight the bigotry and intolerance in our society. It's evident that this is even harder for members of the ethnic community who have greater difficulty with acceptance due to religious and cultural pressures from the family.
"It is therefore expected that the younger generations will help us pave the way for a fairer society, yet, even today we have unacceptable bigotry and hate against gay people eminating from the words of young Muslims who themselves see nothing wrong with enjoying pre-marital sex and a modern lifestyle, yet still promote a hatred a the LGBT community.
Regarding journalist Adam Yosef's reference to same-sex partnerships, which have recently become llegal in Britain, this kind of journalism is offensive and unacceptable and not only demonises the gay community but panders to ridiculous stereotypes. We demand a retraction and full apology from the publication and author."
Peter Tatchell, an internationally renown gay and human rights activist, congratulated GAMW on its effort saying, "You are right to challenge this." He went on to describe the campaign against columnist Adam Yosef as "an excellent initiative to challenge homophobia."
Members of the LGBT community have expressed their support by complaining to the Press Complaints Commission. Some of the members who contacted Mr Yosef himself have received shocking and deeply offensive replies. In the most recent issue of the newspaper (Issue 45), Mr Yosef has attacked gay rights campaigner Peter Tatchell, describing him as "vile" and "bigoted" and placing him alongside Nick Griffin of the BNP and Omar Bakri Mohammed of Al-Muhajiroun in a 'wall of shame' feature.
GAMW contacted Mr Yosef, who previously worked at the controversial Birmingham Central Mosque, but have not yet received a reply. Mr Yosef is a member of George Galloway's Respect party. Peter Tatchell has previously criticised the Respect Party of having links with homophobic representatives of fundamentalist Islamic organisations (see links below).
NOTES:
Please contact:
Peter Tatchell:

peter@tatchell.freeserve.co.uk
-
www.petertatchell.net - www.outrage.org.uk (Peter Tatchell's articles)
Adam Yosef:

adam@urbanmedialtd.com
- Tel: 0871 990 7730
Desi Xpress Editor:

reena@urbanmedialtd.com
- Tel: 0871 990 7730
www.desixpress.co.uk
Forum and initial complaint alert:

http://www.indymedia.org.uk/en/2006/01/330845.html
Adam Yosef:

http://en.wikipedia.org/wiki/Adam_Yosef
Peter Tatchell:

http://en.wikipedia.org/wiki/Peter_Tatchell
Asians in Media Forum:

http://www.asiansinmedia.org/forum/general/topic.php/7527/index.html
Gay.com:

http://uk.gay.com/boards/read.php?f=5&i=19396&t=19396
USA:

http://indymedia.us/en/2006/01/13364.shtml
Sir Iqbal Sacranie's gay-bashing:

http://uk.gay.com/headlines/9434
Thank you.
Gay Action Media Watch


e-mail: gaymediawatch@yahoo.co.uk