Tash Truner (words) GS (pictures) | 05.01.2006 12:28 | Health | Sheffield | World
One thing that really shows up the inept international response to the Kashmir disaster ,is the fact that much of the aid is being provided by some of the worlds poorest countrys. Bush and Blair constantly go on about how Pakistan is a vital partner in the so called 'War on Terror'. So where are they in their hour of need??
On many occasions we saw the flag of Cuba flying in the NGO camps of the earthquake zone. Didnt meet any Americans.....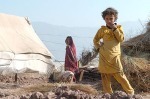 The village of Bakot. Mostly tents.

Dr Alberto Vegas, Anjum 'Andy Abassi & Director Fransisco Gonzalez Lam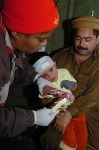 3 year old Talal has his burns treated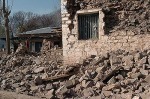 The Bakot Police Station/prison built in 1875 by (surprise,surprise) the British
IN the remote, mountainous village of Bakot‹an hour and a half from the earthquake epicenter Muzaffarbad, a team of doctors from Cuba have set up a field hospital.
Tragedy is everywhere. Distraught father Wazir Shah walked from the village to Muzaffrabad to find his family. His daughter was trapped and died calling for him from the rubble.
But one wonderful sight is that of a MASH-style field hospital, one of 32 in the earthquake area, run by 66 doctors from Cuba, itself one of the poorest countries in the world.
"I want to tell the world that there are Cubans in a remote village like Bakot, doing a marvellous job and if a poor country like Cuba can help so more can and should be done the rest of the world." says Anjum Abbasi, known as Andy, shaking hands and hugging the team's chief director Francisco Lam Gonzalez and Dr Alberto Vegas.
One small child saved by the Cuban team is three-year-old Talal, who suffered horrific burns when scalding cooking oil, tipped on to him as the tremor struck.
The total number of dead for the district-Bakot is the centre for villages in the Nambal valley-was more than 200, with hundreds more injured. At the village school luckily the 350 young pupils escaped alive. One teacher jumped 30 ft to safety.
Some 10,000 people high in the mountains have been seen by the Cuban medical team inside 45 days battling the terrain and the sort of weather they would
never have experienced at home.
Not all victims of the earthquake will have someone like Andy -born in Bakot but now living in Rotherham- to offer help as they face rebuilding shattered, traumatized lives.
As Dr Vega put it : "We may not be rich in order to give some things but we are rich in medical knowledge and we can help the poor of the world."
Pictures © email for details of free use.
Tash Truner (words) GS (pictures)


e-mail: guy.smallman@btinternet.com