rikki | 11.12.2005 18:05 | Anti-militarism | Free Spaces | Repression | London
u.s. peace activist cindy sheehan, who lost her son as a soldier in the iraq war, met with brian haw, veteran parliament square protester, this afternoon. the meeting was harassed by officers from charing cross police station (including the ones who illegally arrested brian on friday morning!), and escalated into a full blown noise demo outside downing street in total defiance of the 'serious organised crime and police act' designed to prevent dissent outside parliament buildings. there were no arrests.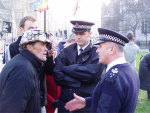 brian in conversation with pc cx3
supporters of brian haw, and other people interested in meeting with u.s. activist cindy sheehan, gathered in parliament square at noon today. they included members of the parliament square picnickers. there were no banners, there was no noise, there was no obstruction of the thoroughfare. it was not a demonstration, just a meeting.
on friday morning, two police arrested a supporter of brian's in parliament square, and arrested him for breach of the peace when he argued with them over the arrest. at charing cross, they were very quickly released without charge, but the incident made front page news on the independent and was covered by other media, happening as it did on the eve of human rights day. in an amazing show of insensitivity or was it harassment( ?), these two same officers were the first on the scene this afternoon, threatening people under the 'serious organised crime and police act section 132 banning spontaneous protest outside government buildings in a large area round parliament.
at 12. 30, more officers arrived, and CX3 handed out notifications of an unlawful demonstration, and despite being repeatedly assured the crowd were not demonstrating, just meeting with cindy sheehan, he stated that he would be making arrests at 1.15 if the crowd didn't disperse by then. cindy arrived by about one 'o' clock, and had a moving conversation with brian haw. cindy galvanised the peace movement in the u.s. when she camped outside the bush ranch after her son was killed in the war on iraq. she was also arrested twice for protesting outside the white house.
police today refused to accept that the meeting of people was not a demonstration, and so in the light of this, people became bolder and decided to start a demonstration anyway, since they were threatened with arrest for demonstrating whatever. 1.15 came and went, the threats grew louder, more police arrived, and people slowly packed away the picnic that had started on the square, and then moved en masse towards downing street, chanting peace slogans along the way, and attracting lots of attention from passers-by.
a group of some 50 people stood directly outside the gates of downing street in total defiance of police threats, and a huge pink banner was held up. although continually threatening arrest, and asking the crowd to move to trafalgar square, it is possible they were aware of the political and media implications of trying to close down brian and cindy's joint meeting, and so the threats were looking more and more idle. a letter was handed in to downing street, more chanting continued, the crowd did not move until they were ready, and well after 2 'o' clock, people began to disperse, not least because cindy was now hungry, although earlier she had been seen eating some of the picnickers 'protest cakes' in an attempt to destroy any evidence of a demonstration.
earlier this week saw the very first court trial of someone arrested under the section 132 law. this was maya evans, who had been arrested in october for taking part in a two-person demonstration outside downing street where they held a remembrance ceremony by reading out the names of the dead in iraq. she was found guilty under the law, and given a 12-month conditional discharge and asked to pay costs of £100. more trials are expected next month. the law was framed in such a way that in a high court challenge, judges ruled that the law could not be applied retrospectively, and so brian haw's four-year vigil outside parliament could not be outlawed - it is generally thought that brian's one-man protest was the reason the law was brought in, but farcically, he is now the sole person in the country who remains able to exercise his freedom of speech in the area, while the rest of us have to apply for permission in advance of any protest, and police can impose any sort of restrictions they wish arbitrarily.
the parliament picnickers continue to test the law in imaginitive ways each sunday - for more information see www.peopleincommon.org
for info on brian's protest, see www.parliament-square.org.uk
rikki

11.12.2005 18:58
the full title of the piece was going to be
"meeting between cindy sheehan and brian haw turns to spontaneous protest in defiance of law"
rikki

---