rikki | 10.11.2005 01:05 | Rossport Solidarity | Ecology | Indymedia | Social Struggles | London
in november 1995, nigerian writer and activist, ken saro-wiwa, and 8 of his colleagues were executed by the military regime for campaigning against the devastation of the niger delta by oil multi-national shell. yesterday, demonstrators dropped nine nooses infront of the shell uk headquarters on the south bank to highlight the anniversary and highlight the current struggle on the north west of ireland, where shell is set to transform a remote conservation area into an environmental disaster zone with public health and safety implications.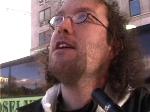 terry clancey from rossport solidarity camp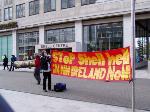 protest round the front of shell
shortly after midday, climbers scaled the lampposts outside the shell hq buildings on the south bank, and dropped the nine nooses from a line between the posts. other protestors arrived with huge banners, a megaphone and leaflets, along with a tiny but noisy samba band.
the action soon attracted the local security teams, a couple of overwhelmed community support officers, and then various police. police used the new 'serious organised crime act' legislation which prohibits "unauthorised demonstrations' within an exclusion zone around parliament. at first they claimed that the protestors could not demonstrate anywhere near to the shell building, but after being shown a map of the exclusion zone, conceded that the action could continue on york road at the front of the building.
they handed out many leaflets and educated passers-by of the real un-'greenwashed' reality of shell. one of the participants was terry clancey who is visiting from the irish rossport solidarity group. he will be speaking at an event at rampart on saturday.
after a pause for some late lunch, it was off to the national gallery, where shell is currently sponsoring a rubens exhibition. visitors are charged £7.50 - £9 for entrance, but shell offer free tickets to their special guests, and have held at least two banquets in the building, surrounded by the classic art of rubens. as business men are treated to this sumptuous private exhibition, you can begin to see why shell are so keen to sponsor this kind of thing - it fits in neatly with their greenwash slogan of 'profit AND principles'.
for further info:
on shell generally www.shellfacts.com www.corporatewatch.org
on the struggle in ireland www.shelltosea.com
on shell art sponsorship www.artnotoil.org.uk
on protest restrictions www.freedomtoprotest.org.uk
to contact the uk solidarity campaign

stops_hell@yahoo.com
there will be a video of the day's protests posted later.
there is a rossport irish solidarity event at rampart next saturday with speakers, videos and music - more info on indymedia elswhere, and i'll post more details of this with the video.
rikki