Neo-Natal Wilfred aka Captain Planet | 03.11.2005 12:02 | Animal Liberation | Culture | Globalisation | Sheffield
Friday 28th of October 2005 saw local Sheffield groups standing up to the corporate giant 'Starbucks' invading their local communities.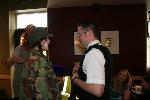 we want to build more starbucks
In the last year, four spanking new 'Starbucks' coffee shops have sprung up in Sheffield. This has not gone unnoticed by the local active groups. On Friday the 28th of October, People and Planet and Sheffield clowns came out to play, to let the workers and consumers of Starbucks know what they are supporting in their employment and purchases. Factual flyers were handed out to passers by, with information about:
-Starbucks' predatory tactics on small businesses
-their lack-lustre buying of Fair Trade coffee beans (1-2% globally),
-abuse of animal rights with the use of bovine growth hormone on cows
-creation of mass waste ( Starbucks produces more rubbish in the USA than the whole of New York city), yet are involved in projects such as Earth day.
The aim of the day was to unveil the 'ethical facade' that Starbucks has created in it's PR campaigns. Throughout the day people turned away from buying Starbucks after reading the flyer.
Free fair-trade coffee was given out to pedestrians, which proved a very popular element of the protest.
The clowns arrived at 1pm to build more Starbucks in the Starbucks because apparently there aren't enough Starbucks in the world and there should be more. Despite the clown's tickles, hugs and willingness to help in Starbucks construction, the police arrived and made them leave, only for them to go to the next shop around the corner. The police came again and threatened the painted faces with arrest for breach of the peace. Apparently feather dusters are dangerous these days!
Overall alot of people were made aware of ethical issues that are well hidden by Starbucks advertising and hopefully will support local businesses and Fair Trade outlets in the future.
Peace.
Neo-Natal Wilfred aka Captain Planet