mini mouse | 28.10.2005 23:33 | SOCPA | London
More than a thousand cyclists rode into Parliament Square tonight, sang, danced and stayed free in the first mass challenge to the SOCAT laws curbing the right to free protest.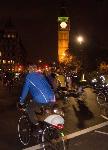 Cyclists pour into Parliament Square
Ten times bigger than a regular London Critical Mass, it was a direct response to last month's threat to make arrests unless the police were given notice of the route 6 days in advance. By 7pm the Embankment under Waterloo Bridge was packed with bikers, many who had turned up for the first time after reading flyers placed in many of London's cycle shops.
To the sounds of great drumming, whistling and deafening sound systems the ride took off over Waterloo Bridge, along the Strand and into Trafalgar Square. Rather than bust cyclists as feared, the cops held up traffic at busy intersections and very much took the cyclists side. The nearest thing to an arrest I saw was in Oxford Street, where a bike cop told a swearing cabbie to get back in his taxi or be nicked.
The atmosphere was truly brilliant. Spontaneous smiling and random hugging going on all over. And the support from almost everyone along the route - tourists, pub-goers and general people on the street was unanimous. Cyclist freely explained the purpose of the event - protest against the causes of climate change and repressive laws - and got a massive thumbs-up.
With no organisers and no planned route it was obviously going to go through Parliament Square. As the first riders completed a lap, there were still hundreds pouring in, and the sheer number of cyclists brought it to a halt. Most sat down in the roads, many lifted their bikes into the air, some danced to the sounds set up outside Big Ben.
Nobody knew what would happen next - I imagine we all expected the arrival of Tactical Support Group and a massive punch up in the Square. But after fifteen minutes or so the ride picked itself up and rode off to repeat matters outside Downing Street, again with no arrests.
Tonight another way was possible. It was refreshing to be out and not have a FIT squad stick a video in your face. It was nice to see a cop tell a cabbie off for swearing at a cyclist. It was great to feel part of one massive force for good, and for just a few pissed ad execs to be the odd ones out, rather than us.
To everyone who came along, well done and thank you. Direct Action can sometimes be a dispiriting affair, and you wonder if anyone's listening, if it makes any difference.
But tonight certainly replenished some of the enthusiasm that's been knocked out of us - well me anyway - over the last twelve months.
A brilliant night out.
mini mouse