mini mouse | 25.09.2005 00:00 | London
It's ridiculous that indymedia's having to cover today's march in London with lifts from the BBC. Here's a few independent pictures.

Bianca Jagger and other lead the march through Trafalgar Square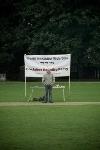 Hopeful party waits for members

Tony Benn gives a powerful delivery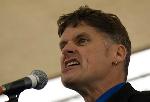 Colin Fox gets angry with Blair government
Considering the lack of publicity, todays march was very well attended.
Not in the 1-2 million league of a few years ago, but certainly in the tens of thousands.
Judging from the cross section of people there, the churches, mosques and trade unions were the main organisers in today's march, along with a lot of independent groups of teenagers.
Even more speakers than usual turned up. There were particularly powerful speeches from Jeremy Corbyn, Tariq Ali, Tony Benn, Colin Fox (SSP) and John Pilger.
And putting it all into the context of real lives were the family of Jean Charles de Menezes, and Military Families Against the War, featuring, if that isn't too pathetic a term, Sue Smith and her daughters expressing their grief at the loss of their some Phillip, ten weeks ago.
"Seven weeks ago we saw our son for the last time in a coffin at the chapel of rest. We were looking down on the face of a son that I had given birth to and loved with all my heart, knowing that I would never see him again".
A recurring theme of the speakers was that no government is for ever. Many a vicious regime has fallen at the hands of the people, and since the politicians and "democracy" is failing them, the time has come for the people to act.
mini mouse


e-mail: mini_mouse@riseup.net