no war | 14.09.2005 19:45 | DSEi 2005 | Anti-militarism | London
This afternoon a crowd of people blockaded the western entrance to the Excel Centre, host to the DSEi arms fair. The gate was shut to traffic in both directions and arms fair attendees re-routed to the other side of the Excel complex. After some time the police looked like they were preparing to surround people and push them into the 'designated protest zone', so the protestors once again took to the flyover road before moving off to make there presence felt elsewhere.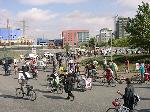 Cyclists take the roundabout by Tidal Basin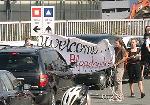 Blocking cars from entering DSEi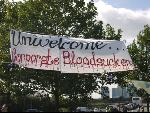 Saying "Unwelcome Corporate Bloodsuckers"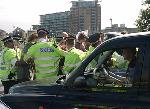 Polifce manage to get one vehicle in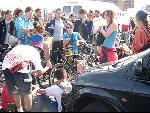 But the next is quickly blocked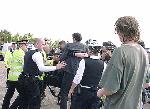 Some try walking into the Excel centre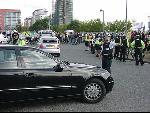 The arms fair is that way (now)
no war