rikki | 07.08.2005 17:12 | SOCPA | Repression | London
this afternoon police arrested another five protestors under draconian new legislation that bans any protest not agreed with police in advance. the ban applies to just one or more people in a large exclusion zone around parliament and government buildings. a prospective protestor is supposed to apply to police a week before the demo, and they have the right to ban the protest, or enforce all sorts of restrictions on it without any independent judge, effectively giving them political power over citizens in this area.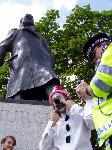 clowning around infront of churchill
in a repeat of monday's action (the day the new bill came into force), police intensely surveilled the small crowd of around 100 protestors in parliament square this afternoon after they assembled at noon. then soon after one 'o' clock, snatch squads of police moved in, surrounded someone identified by the forward intelligence officers, and to cries of 'shame on you' from the crowd, made an arrest. this process happened five times, and then, their quota for the day achieved, they refused to arrest any further demonstrators, despite the fact they were clearly breaking the same law.
this arbitrary, nonsensical police operation, involving more than a dozen forward intelligence officers, and more than 100 other police stationed round the square, comes at a time we are being told police are at full stretch to cope with a serious terrorist threat. the usual police surveillance included two videographer/photographers, taking loads of footage and shots, while other officers took copious notes. at one point i saw an officer standing behind a young women with a rucksack, making notes about the slogan on her bag, which said "fuck cars" in an imitation ford logo. presumably all this film gets watched and sorted, and all these notes get typed up and filed or computerised. how much public money is wasted on this ludicrous type of operation?
the demonstrators themselves, though small in number, remained dignified and totally non-violent throughout the proceedings. after the arrests, they gathered together for a meeting to discuss what they would like to do, and decided that rather than let people drift away in dribs and drabs, they would perform some symbolic action and then end the demonstration peaceably at 2 'o' clock. so, a little before two, most of those present laid down on their backs in the square, and chanted 'protest our right' for a few minutes before officially ending the protest at 2. despite this clear flaunting of the law, no further arrests were made.
the crowd themselves included members of many different protest groups, and a huge age range and ethnic diversity. there were a small phalanx from the clown army, one of whom was searched under terrorist laws, and cracked some laughably awful jokes while the f.i.t. officer filled out his search form.
once again a sad day for democracy, and once again, a good demonstration of how arbitrary, unworkable, and unjust this badly made law is.
rikki