Adam Yosef | 17.07.2005 19:31 | G8 2005 | Anti-militarism | Globalisation | Social Struggles | Birmingham
Pictures from the Make Poverty History demonstration which took place at the Meadows in Ediburgh on Saturday 2 July 2005.
Use pics freely, accredit to Adam Yosef. Share your comments!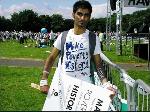 Adam Yosef in Edinburgh for Make Poverty History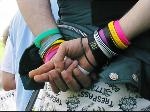 Coloured charity wristbands worn by reveller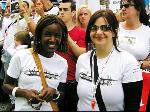 Diane Louise Jordan marches with the Make Poverty History protesters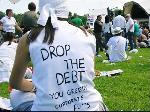 'Drop the Debt' novelty T-shirt with personal message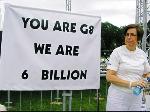 'You are G8, we are 6 billion' message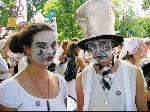 Sad clown faces, all dressed in white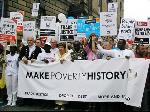 Make Poverty History march in Edinburgh, Scotland

Older woman listens to speakers at the Stop the War Coalition / CND stage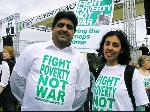 Perviz Khan and Salma Iqbal from Birmingham with Stop the War Coalition T-shirts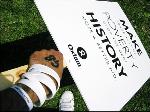 Make Poverty History placard and white bands with G8 message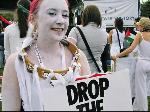 White faced protester calling on G8 leaders to 'Drop the Debt'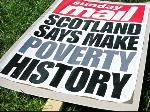 'Scotland says Make Poverty History' Sunday Mail placard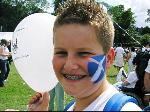 Boy with Scotland flag painted on his face and Make Poverty History balloon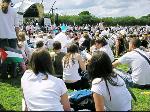 Revellers at the Make Poverty History stage in the Meadows in Edinbugh, Scotland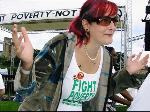 Stop the War Coalition member at a stall during the Make Poverty History rally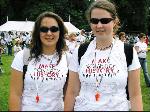 Birmingham girls wearing their Make Poverty History message T-shirts in Scotland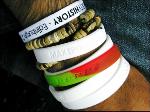 White Make Poverty wrist bands with a new Respect wrist band
Painting the town white - Making Poverty History
Over 255,000 people were estimated to have converged on Edinburgh for the largest ever demonstration to take place in Scotland as the Make Poverty History action and march got underway.
Coaches left from Birmingham in the early hours of Saturday morning with other individuals and groups boarding the official Make Poverty History train from the city or taking personal transport.
From Carrs Lane Church in the city centre, coaches filled with protesters set off at 5am while in Rea Street only minutes away, an Islamic Relief coach-load of activists departed from central Birmingham at 3am. Tired as they were, the committed campaigners braved the pre-dawn chill as they set of for a gruelling six-hour journey to Edinburgh in Scotland.
These coaches may have been organised by religious charities but those on board were a small-scale representation of the larger picture which would present itself in Edinburgh.
A wonderful mix of people from all backgrounds including socialists, Christians, Muslims, charity workers, young and old, black and white - all sharing seats on the same coaches, all sharing the same passion to end world poverty and challenge the leaders of the elite and exclusive Group of Eight.
When the local coaches reached the capital of Scotland and the passengers made their way to the Meadows, slowly being joined by coach passengers and visitors from other cities across Britain, it became very clear that this wasn't going to be one of those quiet protests that would become overshadowed and drowned out by the London activities of Live 8.
There were thousands upon thousands of people filling up the Meadows, as every area of green gradually became white with 'MakePovertyHistory' T-shirts, balloons, arm-bands, bandanas, headscarves, make-up, banners, placards and those essential white wrist bands.
From amongst the hundreds of charities, trade organisations and campaign groups affiliated to MakePovertyHistory, many of them were out in full force with stalls and volunteers raising money, distributing literature and promotional material, handing out cool accessories and displaying their bright and powerful exhibitions and posters to spread the call for an end to world poverty and the cancellation of third world debt and war.
Amongst the charities present were Christian Aid, Islamic Relief, Save the Children Fund, World Vision, Action Aid and many others.
There were three main stages including the official MakePovertyHistory stage and a Stop the War Coalition/CND stage. All of the platforms featured an array of speakers, guests, African acts, special contributions and popular entertainment.
Eddie Izzard and Bianca Jagger spoke to the mass crowds alongside actor Pete Postlethwaite, SMP Alex Salmond, BBC Broadcaster David Dimbleby, musician Bily Bragg, Member of Parliament George Galloway, Church of Scotland's Right Reverend David Lacy, Cardinal Keith O'Brien of the Scottish Catholic Church, Guardian journalist George Monbiot and Cardinal Cormack Murphy O'Connor of the Roman Catholic Church.
Italian and Iraqi politicians addressed the crowds from the CND/STWC stage where revellers had the opportunity to listen to former UN inspector Scott Ritter, Rose Gentle, whose son died in Iraq and human rights lawyer Amer Anwar.
Many of the personalities stressed the link between war and poverty, calling for an end to warfare and arms dealing as a major step towards ending world poverty.
Also supporting the day's effort was Sharlene Spiteri of band Texas and a host of well known TV faces including Asian star Nadia Wadia and former Blue Peter and Songs of Praise presenter Diane Louise Jordan.
All of the protesters and supporters began leaving the Meadows to march around Edinburgh's main streets, lead by a MakePovertyHistory banner held by some of the famous faces, religous leaders and politicians involved in the large demonstration. Thousands made their way along George IV Bridge, passed The Mound, along Princes Street, Castle Terrace and Lauriston Place.
The march was led by African dancers dressed in white. Many returned to The Meadows hours later only to discover that the queues of people waiting to march were still standing static, such was the huge turnout for the protest march. Many continued to wait well into the evening, some beginning to march as stages began to pack up at the end of the day.
In the Meadows, huge letters spelling the words 'MAKE POVERTY HISTORY' were brought in using large cranes. The hollow wooden structures were supported throughout by bars to which campaigners attached their personal anti-poverty messages for the G8 leaders, written on white fabric.
When all of the messages were displayed on the gigantic letters, they were laid on the floor to provide an aerial view of the white MakePovertyHistory message.
Revellers found numerous novelty ways of sharing the message to drop the debt from face and body paint to MakePovertyHistory underpants and fancy dress costumes. At the height of the march, all of the protesters, most of whom had worn white, joined hands to create a massive white band.
Back in The Meadows, a silence was observed for a few minutes, followed by what was
dubbed 'the big moment' when everyone was encouraged to make as much noise as possible at 3pm.
The sun shone as the thousands particpating in the event made their voices heard, campaigned and enjoyed the atmosphere, relaxing and listening to speeches and enjoying the day's fun activities. The fair trade stalls, fun for children, food and drink, live music and carnival-like buzz continued into the evening with the event closing at 7.30pm.
Most Brummies made their way back after the 'moment' at 3pm, except for those that travelled on the Islamic Relief organised coach who made their way at 7pm after the coach broke down and had to be replaced. Everyone was back in Brum by 1.45am after a long 22-plus hours of protesting, rallying and sleeping all in the name of Making Poverty History.
You can read more by visiting:

http://www.bbc.co.uk/birmingham/content/articles/2005/07/05/adam_mph_edinburgh_feature.shtml
and

http://www0.bbc.co.uk/birmingham/content/articles/2005/06/21/make_poverty_history_feature.shtml
or

http://www0.bbc.co.uk/birmingham/features/make_poverty_history_index.shtml
Adam Yosef


e-mail: adam@urbanmedialtd.com