ab | 17.07.2005 12:56 | G8 2005 | Anti-militarism | Ecology | Free Spaces
On Monday 4th of July, Scottish CND, Trident Ploughshares, the Faslane Peace Camp and friends celebrated one of their biggest success in the struggle against the Nuclear Weapons of Mass Destruction in Britain yet:
They closed down the Faslane Submarine Base near Helensburgh, north of Glasgow for a day - with hardly any arrests and a holiday for the workers.
On a sunny day, the victory of Non Violent Direct Action came at last for the campaigners.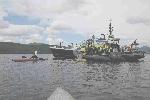 invading the water with rebel kajaks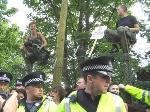 fence sitters - partly sitting on there for 6 hours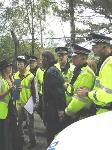 few arrests - only people who sat on fence or entered the base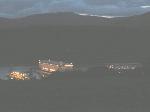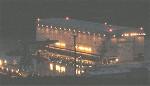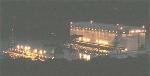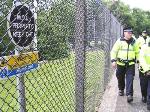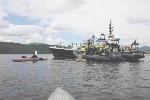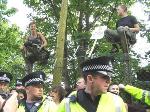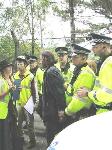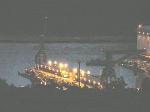 Starting at about 6am till after 6pm in the evening, peace campaigners inspired each other in one big party to keep on protesting against the threat of Nuclear Weapons - wherever they might be,and in whatever form.
The most worrying problem were the midges and the tiredness.
Many peace protesters were getting up earlier than 3 or 4 am to catch the buses in time for blockading the workers morning shift entering the base.
People were falling asleep on the street whilst blockading the north gate, the police was incredibly friendly and seemed more to observe each other than the protesters.
It was an incredibly positive experience and a total victory.
ab