Guido | 03.07.2005 01:36 | G8 2005 | Globalisation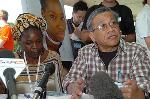 Walden Bello explains the basics of trade unfairness to waiting journos.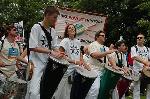 One of many samba bands on the demo.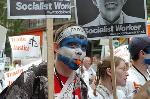 An indication that this demo happened north of the border.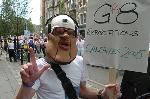 Bo selecta against G8 stuff...yeah.
A fantastic demo that will probably get relegated to second place by the corporate media. After all a few thousand people attending a free concert in Hyde Park by a handful of millionaire parasites is far more important isnt it?
P.S. I was in the pub watching super rich twat Bob Geldoff perform 'I dont like mondays' and he was shit!
Guido


e-mail: guidoreports@riseup.net