freedom for Iraq ! | 23.06.2005 00:04 | Anti-militarism | Repression
While we were writing this report , Dr .H Al-Aaloossy , the director of Al-Qaim General Hospital sent a call for help (June 20,2005) to the international community asking for lifting the military siege imposed by the American and British troops on Al-Qaim and the neighboring areas, and to let the ambulances evacuate the wounded. He also called upon these troops to stop the blood bath, and to let water, electricity, and medical help reach the civilians. He said that tens of families are buried under the rubbles and no medical help can reach them. He confirmed that the majority of the casualties were civilians, women and children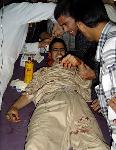 A man cries out as he is treated for injuries following U.S. air strikes in the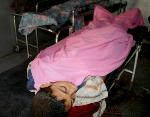 An injured child lies in hospital after a US airstrike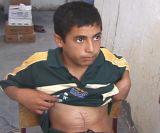 Mustapha, 12, lives in the railway station. On April28, 2005 shot by an American
Aid agencies call for access to Karabila
Aid agencies and doctors have called on Coalition forces in Iraq to allow them safe access to the village of Karabila in the west of the country, as battles between troops and insurgents continue.
"The situation is critical in the village of Karabila. Hundreds of injured people are inside the town requiring urgent medical treatment but have been prohibited to leave the village by US forces and we are not authorised to enter there," Dr Hamed al-Alousi, director at the nearby al-Qaim general hospital, said.

http://www.alertnet.org/thenews/newsdesk/IRIN/7b0ca4b5eba9fb35ff964b5058eed9c2.htm
Al-Qaim Hospital: Tragedy beyond Description

http://www.uruknet.info/?p=12462
Al-Qaim II
Snipers' Indiscriminate Killings: Testimonies of Civilian Casualties

http://www.uruknet.info/?s1=1&p=12800&s2=20
freedom for Iraq !