Electronic Warfare jammer | 27.05.2005 11:37 | Anti-militarism | Repression | London | South Coast
A conference on Electronic Warfare was picketted by activists yesterday. Titled 'Wider Horizons, Infinite Challenges' the conference, organised by The Shephard Group and hosted by the Royal Lancester Hotel, was attended by major arms dealers like BAE Systems,Lockheed Martin and EDO.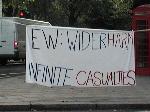 Electronic Warfare - Wider Harm, Infinite Casualties
The conference was addressed by top military brass, past and present, including Air Vice-Marshall Stuart Peach RAF, Director General Intelligence Collection, MOD and Group Captain Cliff Thomas RAF (Ret'd), Past President UK OAC - The Electronic Warfare and Information Operations Association UK. The delegates were less forthcoming about the role of Electronic Warfare outside the conference but one delegate was unable to keep to himself and his buddies the valauble services provided by EW.
Chris Slack of Lockheed Martin was initially cagey about the nature of Electronic Warfare referring an activist to Google. However when pressed Chris gushed about LM's role in saving the orphans in Sierra Leone during the conflict there in the 90s and protecting children being maimed by the Revolutionary United Front. Come on kids show some gratitude to your saviours Lockheed Martin. Tut, kids nowadays , no respect. Chris failed however to elaborate on this argument when challenged as he had finished his fag and had important child-saving business to do.
Such was the nature of the threat posed to the distinguished delegates by the 4 activists that a riot van and 6 cops were needed, 2 of them constantly patrolling the building to prevent infiltration. Those leaflets did look like they could have been printed with poisoned ink.
US arms dealers EDO Corp had a particulary large presence in recognition of their weapons interfacing expertise. Apparently some EDO delegates were overheard talking about a trip to the seaside over the long weekend in search of sun and sand.
Sorry dudes the only sand you'll find in Brighton is up at EDO/MBM your UK subsidiary in form of 3 sand pits. But pay a visit anyway and stop over till Tuesday when from 3-6 the Big Demo will send a loud message to warmongering excrement like yourselves that you are not welcome in Brighotn or anywhere. Come along to the Public Meeting afterwards at the Friends Meeting house to defend your company's activities. Perhaps you too like Chris Slack of LM have a heart-warning tale of the Electronic Welfare provided by EDO.
Electronic Warfare jammer