23 | 27.03.2005 04:56 | Culture | Free Spaces | Zapatista | Liverpool | World
Zapatista Doll returned a faulty Starbucks cup
to a local retailer asking them to get it back
to the manufacturer and alert them to this
possible need for a recall. As you can see
the cups do not say what Starbucks would like
their main message to be.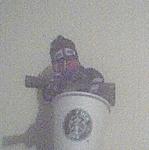 Doll Stress-Testing Faulty Cup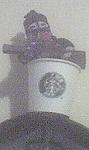 Look Carefully And See The Coffee Splashes Of Doll's Displacement
The close-ups will show in better detail
what the defect turns out to be. We're
not sure, but we're thinking someone
at their factory might be monkeying
around.
Zapatista Doll says it's more likely
something similar to those Crop Circles
in London proper, but doesn't think there
is any significance to the date when
this cup turned up. [03/26/05 spells
"sogZEO" upside down.] S/he is aware that
some others had to return faulty cups
to Starbucks in recent weeks as well.
This may have been going on for some
number of months. We're not sure yet.
Retailers say they are looking in to this
but have no official comment at this time.
Other faulty cup sightings have been recorded
in both picture form and video at:

http://www.starbuckscoffee.org.uk/starbuckshi.html
____________________________
Related Story.
Crop Circles and Strange Numberic Sightings
aren't foreign to Zapatista Doll.
Doll maintains some expertise in such
phenomena. Read about some of Doll's
other random thoughts at:

http://madison.indymedia.org/newswire/display/15920/index.php

http://dc.indymedia.org/feature/display_printable/88906/index.php

http://portland.indymedia.org/en/2003/09/271252.shtml

http://chicago.indymedia.org/newswire/display_any/29984

http://indybay.org/news/2005/01/1716676.php

http://dc.indymedia.org/newswire/display_any/80512

http://atlanta.indymedia.org/newswire/display_any/20608

http://www.indybay.org/news/2003/09/1640839.php
23