signifying nothing - probably. | 20.03.2005 15:08 | G8 2005 | Anti-militarism | Repression | London
Quite a few people I spoke to on the large anti-war protest on Saturday March 19th 05, remarked on the style of policing deployed for the march.
While they were not criticising the actions of any police officers, they were keen to point out that there was an increased level of close policing along the route and the increased use of police vans to create road block barriers, both en route and at Trafalger square, where the march ended.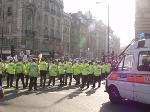 Line at Piccadilly Circus 1 (police, barriers, vans)

Police Line at Traf Sq as March Enters Square
They commented that this was more evident than the previous massive anti-war demonstrations. Of course things were different on this protest march to many of the previous protests, since the route both detoured around the US embassy passing through Grosvenor Square (with the obvious security concerns raised), and also entered into the bottom of Trafalger Square, as opposed to the top of the square as has been seen most of the earlier marches.
I took a few pictures en route and at trafalger square (see below) - there were lots of other places where vans were used as road block barriers and not just in the immediate area around the US embassy.
There were also many more areas cordoned off with white ribbons - some said this was for emergency vehicle access - however many were also situated outside buildings which were being more 'guarded' by police than others. There was also a much higher use made of metal crowd control barriers than previous anti-war demonstrations.
It was interesting to see this higher visability style of policing, especially since this was the first major national demonstration in London this year. No one was saying that this hasn't been seen before, or that other large anti-war protests haven't had high police presences, just that this felt a bit different and more visable.
One person did say they had heard quite a few Scottish accents from some of the police on road blocking duty, and wondered if this was in any way related to the G8 Summit due later in July in Scotland.
signifying nothing - probably.