Guido | 20.03.2005 04:46 | Anti-militarism | London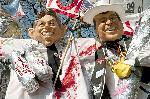 No STW demo who be complete without George & Tony.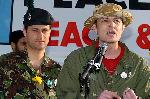 Both these reservists have said they will refuse to be called up for Iraq.
It was big, very big. Probably not the 200,000 said by the organisers but at least double the 45,000 claimed by the Police. Thats an impressive turnout when you consider that this is the 11th national demo called by the STW coalition. Well done to all who turned out for this. Italy is now pulling out of Iraq, who knows what could happen next?
Guido


e-mail: guidoreports@riseup.net