Guido | 13.02.2005 17:11 | Ecology | Globalisation | London | World
Thousands take to the streets of London to make their feelings known about the small matter of our planet being destroyed by greedy profit obsessed scum like George Bush.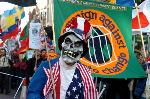 How most of us veiw America at present.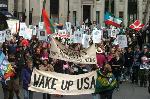 People who care about this stuff are definately on the increase.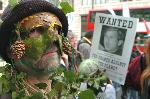 N.B. Most fungal infections can be sorted out with a dose of penicillin.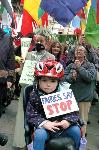 She wants a future even if Bush dosn't........
Saturday saw the biggest Climate Change demo to date with a truly diverse section of people joining the usual bearded enviromental campaigners. It's nice to see both sandals and doc martins marching together through London's busy streets. Also on the demo was the Samba band, some bike powered sound systems and flags of all the nations who have so far signed up to Kyoto.
Guido


e-mail: guidoreports@riseup.net