Lotek, Gruk & Mitzuko | 08.11.2004 23:37 | Globalisation | Social Struggles
Protest and Action to Disrupt elitist meeting.
On Friday 5th of November around 60-80 people gathered in a small Sussex town called Steyning. Their intention was to disrupt a conference held at Wilton Park Conference Centre, Wiston House with the title 'International Rule Breaking in Global Capital Markets'.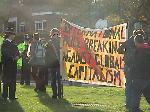 International Rule Breaking Against Global Capitalism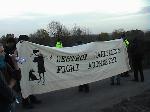 'Destroy Capitalism, Fight Authority'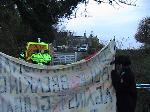 Wilton Park behind police lines
The conference was attended by members of the US Treasury Department, the IMF, the European Commission and the German Stock Exchange with heads of business and industry and leading academics. The purpose of the conference was to facilitate informal networking and frank and "off-the-record" discussion between those with the power to facilitate the smoother management of the global economy. The action was called by groups in Sussex working within the Dissent! Network. The plan was to disrupt the conference and to challenge the legitimacy of the exclusive gathering. Hosted in an old English landed estate the assumption of status and class was in no way subtle. The main group of activists, many finding commonality in the anonymity created by electric blue masks, made their way across fields until they were stopped by police lines, dog units and private security within 50 meters of the building. Attempts were made to permeate the boundaries erected around the manor house. Whilst the main block protested near the front of the house other smaller groups tried to find weaknesses to the security around the back. Some people were successful in getting into the gardens. Five people were arrested and later released on bail. As darkness fell fireworks were let off from wooded cover near the house. Shouting echoed through the valley and barking security dogs, a helicopter and spotlights created an intimidating sense of confusion. The delegates were forced to hide behind extensive security as the estate was attacked.
for more info:
www.dissent.org.uk
www.freewebs.com/shuttheg8
www.wiltonpark.org.uk/web/welcome.asp
Lotek, Gruk & Mitzuko