ekes | 15.10.2004 17:34 | European Social Forum | Ecology | London
The rising tide critical mass went on tour of the G8 climate crimals. Cyclists, many dressed for the weather of 2015 let alone 2004, were joined by samba.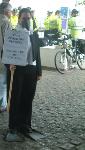 Penguin loosing ice, as we go underwater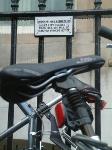 No bikes at the Canadian Embassy?
A sucessful afternoon saw protestors bringing traffic to a human pace, sometimes closing streets. Highlighting the climate criminals in the G8 the demonstration visited Mobil (Exxon), the Canadian Embassy, BP and their public relations wing of the National Portrait Gallary.
The protest was only really marred by one of the police photographers who was making a particular point of being intimidating. He caused his two badged copper minders to have to remove him from situations on numerous occasions.
ekes