ab | 14.10.2004 21:58 | European Social Forum | Anti-racism | Migration | London
A noborder demonstration took place today, Thursday, 14th of october at Waterloo Station in London, Eurostar terminal, co-inciding with actions in Calais and Dover.
Here are some pictures of somebody who cluelessly got lost in the area at the time and had to stay outside the exit to wait for what's happening at the direct action occupation.

half the demo was out6side and half inside the terminal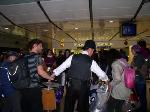 the Bobby tried to stop the samba band playing by confiscating the drumsticks
The demonstration intented to go to the deportation department inside the Eurostar arrival area. In their quest they passed several security checkpoints and passport controls in the wrong direction (start from the exit to the train).
Half of the Samba band came outside after a while and joined the left over protesters who did not make it in time or got lost on their way, abpout 50 - 60 made it inside, so did about 12 policemen, before the doors were closed.
There was an incredibly good atmososphere amongst the protesters and everybody was having great fun, except the police maybe and their dogs.
The demo cam out after about half an hour inside the terminal and made their way to Festival Hall where it dissolved.
Nobody was arrested thanks to the solidarity of those there.
ab