A. Raver | 14.09.2004 21:31 | Repression | Social Struggles | Cambridge | London
Very early Sunday morning (September 12th, 2004), about 100 people gathered beneath a motorway bridge somewhere on the outskirts of Cambridge City, which was, as it turns out, a very cosy 100ft long concrete tunnel.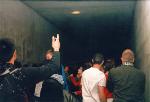 ...wave 'em like you just don't care!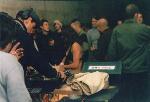 Decks and Dance, we're on a roll!
In other words, a prime location for having a good time!
Everyone there had the same idea - to party the night away to Techno, Breaks and House until it got light or they got tired - whichever came first.
This is what was dubbed the "Ground Zero" party.
Celebrating life rather than mourning the dead.
Nothing wrong with that you might think.
Except for two 'minor' details...
Firstly, in England, the rather progressive laws we have state that everything should be shut down by midnight at the latest - no music, no drinking, and definitely NO DANCING!!
...Unless you're rich enough to be able to buy a late license from your local authority. And even then this is at said local authority's discretion. If they don't like what you're doing (i.e. is it making money? Is the location a 'safe' one? etc.), you don't get the license.
Despite all this, some more adventurous souls boldly go into the night to find secret (mainly disused) locations to hijack/reclaim, set up their sound systems and invite along other equally adventurous types to dance to their repetitive beats!
Cue the Ground Zero crew, boldly going where no licensee will dare to venture.
Secondly, the Ground Zero party in question happened to be taking place on what turned out to be Cambridge University owned land (funnily enough, not a million miles away from the proposed site for their now infamous Monkey Lab).
Needless to say, some University cronies were promptly dispatched in their little white van to investigate the 'disturbance' (despite the fact you couldn't hear or see a thing from the main road half a mile away), soon to be followed by numerous Coppers (I counted at least five cars and three vans).
On this occasion, the local law enforcers were quite well behaved, deciding not to confiscate anything and just politely asked the organisers to turn off the music and pack their stuff - to a collective groan from all the die-hard ravers who were ready for being up all night.
Twas not to be!
However, there have been numerous other (Shock! Horror!) unlicensed parties over the summer season (some of which I have also attended), at various other NON-UNIVERSITY-OWNED locations, at which neither hide nor hair of the police was to be seen for the whole of the night, with things drawing to their natural, sleepy, (sometimes muddy) conclusion in the early hours of the morning.
It should also be pointed out that the number of attendees at these parties was much larger than this one.
Draw your own conclusions from this if you will.
A. Raver