Paul O'Hanlon | 02.08.2004 06:33 | Migration | Repression | Social Struggles | London
This is a 1,130 word report of the demonstration at the Dungavel detention centre on Sunday 1st August with 10 photos.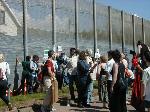 Protestors banging on outer fence.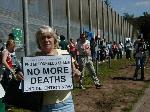 Scottish National Party MSP Sandra White with a placard.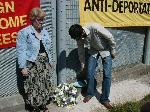 Laying a wreath for the recent suicide victim.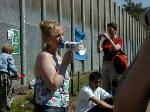 Scottish Socialist Party MSP Carolyn Leckie addresses the crowd.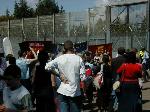 Looking in at Dungavel. It looks like a World war 2 POW camp.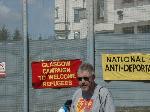 Speaker addresses the crowd. Note t shirt waved in window behind.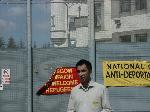 Amer Anwar reads out the detainees statement. Note t shirt waved in background.
REPORT OF PROTEST AGAINST DUNGAVEL DETENTION CENTRE SUNDAY AUGUST 1ST 2004
There was a protest against Dungavel detention centre (`Scotland's shame`) on Sunday 1st August. A coach and a number of cars left central Glasgow a little after noon for the 20-mile drive to the notorious custody centre, scene of a tragic suicide on Friday 23rd July. On a sunny, humid day the demonstrators arrived at the centre around 1.15pm and began the two-hour protest. A big blue sign saying `Premier Detention Services` which for all the world looked like a sign advertising a hotel marked the entrance to the detention center. Dungavel, surrounded by a 15 feet high razor wire fence, is no hotel.
Placards read `End McConnell's Shame`, `No more deaths`, `End detention now`, `Scotland unite to challenge racism` and chants heard went `No borders, No nation, Stop the deportation! ` Many of the protestors banged noisily on the outer fence and some took photographs by the main entrance door ignoring the `cameras prohibited` sign. The police who were very low key took no action.
Banners of organisations represented read `Glasgow Campaign to welcome refugees` and `National Coalition of anti-deportation campaigns`. There was also a banner promoting the European Social Forum to be held in London in October.
Mark Brown, secretary of the Glasgow campaign to welcome refugees, announced the speakers. He said that MSP Sandra White and lawyer Amer Anwar had been given permission to enter the centre and would speak afterwards. He called for a minutes silence for the recent suicide victim which was held and then followed by loud chants of "Shut it down, shut it down!"
First speaker was Carolyn Leckie MSP of the Scottish Socialist Party who said that Dungavel was Scotland's Guantanamo Bay. The Scottish Parliament didn't have the power to shut it down but ordinary people could. She said Blunkett (David Blunkett the home secretary) was trying to get away with murder. "The Scottish Socialist Party believes that we need people here, our gates should be open, our borders should be open, we need people, we need diversity, there's a lot that people can offer and we need a society that is free from war, that is free from oppression, that is free from detention, that ids free from racism. We need an equal society, we need a socialist society and I hope that you will join with me to try and achieve that society." She expressed condolences for the two asylum seekers who died in the last week at Dungavel and at Harmondsworth in West London. Bill Spiers of the STUC sent a message of solidarity as did RESPECT founder George Galloway MP.
At this point some of the inmates were seen waving from the windows and the crowd responded with cries of "Freedom!" and "You are not forgotten!"
Next speaker was Kath Sainsbury of the National Coalition of anti-deportation campaigns who read out several messages of solidarity and made the point that the lives of many asylum seekers were in danger on returning to their countries.
Patrick Harvie of the Green Party sent a message of support as did the Scottish writer A L Kennedy whose quote read: ""I was never very impressed with the standards of accommodation and "rehabilitation" when Dungavel was a prison and I am entirely horrified that it is now being used to detain people who have committed no crime. The demonisation of refugees by this government is not only stomach churning, it's also remarkably stupid in a country with an aging population and a falling birth rate - why would we turn away people who want to come here, who are trying to make a better life and who would contribute to our communities? We'd do it to please the Daily Mail and the other rags that bayed for blood during WWII until we interned thousands of European refugees in appalling conditions, sometimes alongside the hardcore Nazis they were fleeing. We never do learn, do we?"
The next speaker Labour MSP Elaine Smith was introduced as a "thorn in the flesh of Blunkett and Blair and a thorn in the silent flesh and silent mouth of Jack McConnell." She said that Dungavel was Scotland's shame and spoke of the moral repugnance of locking up people who had committed no crime. She demanded the closure of Dungavel. She rejected the arguments sometimes used by politicians that the detention centres are comfortable rejecting the "gilded cage" argument saying a gilded cage is still a cage. She criticised First Minister Jack McConnell for his silence on the issue.
Next speaker was Dr Asifa Hussain of Glasgow University who has been doing research into racism and Islamophobia. She said that people were moving away from the Labour Party and that Blair and Blunkett had blood on their hands. What was being done in Dungavel was barbaric and that it should be shut down on the grounds of humanity.
Muhammad Asif of the Glasgow refugee action group spoke next and spoke of the tragedy of the recent suicides. Refugees from Afghanistan, Iraq, Somalia and Kosovo had fled as a result of British and American bombing. Asylum seekers were treated like animals and were moved around from detention centre to detention centre. This ill treatment sometimes led to suicides. He said that Dungavel was a disgrace to Scotland and a disgrace to humanity.
Next speaker was journalist Pete Murray of the NUJ (National Union of Journalists) and said that the policy of locking up asylum seekers was part of a policy of fear.
Next was a speaker Arthur West from Ayrshire friends of refugees who said they were well supported by Rosemary Byrne MSP. He said it was important for there to be regular demonstrations at Dungavel.
Finally lawyer Amer Anwar spoke to the crowd and read out a statement from the detainees he and Sandra White had just visited. A copy of the statement is attached, it is scanned and saved as a jpeg, and hopefully it can be read. Amer said that he was sick of the Scottish Executive refusing to speak out against Dungavel because they say it is a Westminster issue.
Sandra White MSP asked for a rousing cheer for the detainees, which was duly given. There were more cries of "Shut it down!"
Final speaker was Reverend Da Costa who represented a number of refugees. He spoke of the dangers asylum seekers face if they are returned to their own countries.
Mark Brown concluded the event by saying that protests do make a difference and this was shown by the fact that Amer and Sandra were allowed to go inside. The crowd then dispersed around 3.10pm to loud chants of "Shut it down!" and "Refugees are here to stay"
10 labelled photos from the day are attached.
Paul O'Hanlon


e-mail: o_hanlon@hotmail.com