steve | 05.07.2004 07:44 | Anti-militarism | Sheffield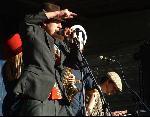 One of the bands on the main stage.


Lots of people having a good time.
I was a bit dubious about moving this years Peace in the Park from last years city centre location at Devonshire Green to this years one in Endcliffe Park near Hunters Bar. However the different venue was a good choice and this years event exceeded my expectations in almost everyway. The much bigger venue meant that there was no sound clash between the main stage the dance tent and various other sound systems and Endcliffe Park is just a much more pleasant space in everyway to Devonshire Green.
Unfortunately the day was marred by the weather. It was mostly pretty cool and cloudy with occasional brief showers earlier on and this must have put quite a few people off from going. Last years event was in blazing sunshine.
One thing that could have been better was a few more food stalls. The only decent food I could find was the stuff provided by the New Roots in the Democracy cafe and that ran out fairly early on. Food stalls are the most profitable stalls at events like these and if people get hungry they are likely to drift away from the festival. This was also true of last years Peace in the Park so it was a shame to seem the same mistake again this year.
All in all though it was good event and it seemed like a lot of people put a lot time in to make it happen so thanks to everyone for all the effort.
steve