Farmer Palmer | 17.06.2004 13:55 | Free Spaces | Sheffield
A collective of Sheffield people have temporarily taken residence in a collection of disused farm buildings near Arborthorne. The beautiful old buildings are due to be demolished by Sheffield City Council to make way for what is described as 'affordable housing'.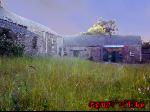 A view of the courtyard and some of the buildings out the back.
The collective say the space is open for community groups and others to use as they see fit. There are a number rooms of different sizes that could be used for anything from meetings, film shows, band practice, workshops etc.
There is an informal open meeting tomorrow (Friday 18th June) from 5pm onwards (details below).
Hi all of yous
We would like to invite you to the first ever
squat'u'like baking session using our very own hand
built oven for pizza, tatties and what ever you would
care to bake! ...in the idilic setting of our brand
new squat farm, which is very near the city centre!
yes it sounds like some sort of fantasy doesn't it.
you'd better get yourself down there for a look and
see for yourself!
This will coinside with an informal meeting of the
Squat collective to work out what we asll want to do
with the space (including yourselves of course).
Come bake with us, stay over if you like, we have lots
of room (bring sleeping bags, mats etc). Find out how
you can get involved.
Bring yourselves, your ideas, and something to put in
our oven!
Hope to see you there
Squat'u'like
xxx
How to get there:
Go up Myrtle Road from Queens Road and after the road bends round the left take a right turn up a dirt track just before some shops. Ash house farm is about 150 yards straight ahead.
You can also approach from East Bank Road (which runs up from Granville Square roundabout). Turn R into Myrtle Road when you see the Earl Marshall pub on your left. Turn left just past the small row of shops.
Buses: 47/48
Farmer Palmer