Birmingham Indymedia | 11.06.2004 14:21 | G8 2005 | Culture | Free Spaces | Globalisation | Birmingham
Here are some black and white images of the Birmingham G8 protest that happened in May 1998.
Here's an interesting account of what happened on the day too

http://www.poptel.org.uk/nuj/mike/brum.htm
See you in Gleneagles...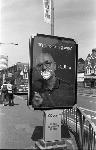 Time for a change at The Bullring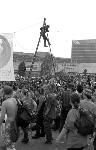 Tripods - they move on wheels dontcha know?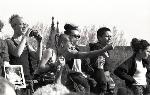 Watchin rotten fruit and veg from the markets below sail towards the cops!
Here's an interesting account of what happened on the day too

http://www.poptel.org.uk/nuj/mike/brum.htm
Birmingham Indymedia


e-mail: feckin_images@tiscali.co.uk

12.06.2004 11:06
Birmingham Indymedia


e-mail: feckin_images@tiscali.co.uk

---
17.05.2005 12:47
one of imc brum


e-mail: feckin_images@tiscali.co.uk

---