suzannah (of the late trinny and suzannah) | 19.03.2004 18:28 | Sheffield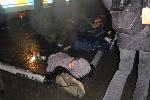 locked on at the main gate around 5ish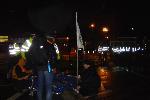 locked on with tinfoil because rain on freezing ground is not good
Early morning at Menwith
We got up at 3am and were at the base around 4.30ish. The police were waiting. They were searching all the vans and taking the lock on stuff as intention to commit criminal damage. It was dark, freezing and rainy. We saw other vans that had been stopped and thought no-one had got through.
But it got better. People had locked together in front of the main gate, in the road, so with them and the police, the gate was effectively shut for a couple of hours and all the workers were really frustrated, stuck in their cars on the road….
On gate three, people in wheelchairs locked onto each other and then one guy locked himself between the wheelchair and the police van – which was fun, because the police really believed they'd grabbed all the lock on stuff at that point. Hee hee. So, that shut that gate too. At gate four, two freezing people sat in the road and caused chaos with the traffic, while the police used the tactic of waiting to see if people froze to death.
I think, it was a pretty good day. Despite the cold, dark and endless rain, we shut three gates – at least for a while (I don't know what happened on gate two).
There was some shit. A guy at the main gate had his arm twisted so hard, he passed out and they had to get an ambulance. Loads of people were nicked. Don't know how many, but some people were just chucked in the police van and left there, freezing, for four hours. The rumour was that the police weren't up for arresting people because of the numbers of people involved. Um, sadly no.
Anyway, that's about it. It was 50/50 I think. They got a lot of our gear but we shut three (or maybe four gates??), one way or another, at least for a while.
Think of how much more we could have done if some more of the people on the demo in London had come to Menwith instead. Then we really could have shut this obscenity down for the day.
Cheers
suzannah (of the late trinny and suzannah)