no bush | 21.11.2003 12:21 | Bush 2003 | London | Sheffield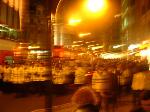 surrounded on left, supporters on right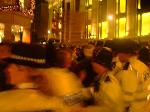 pushed at the back despite slow pace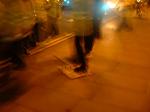 policeman shows opinion with little stamping dance
Pictures from roughly around 8-9pm down Oxford Street in London where a group including some samba drummers were surrounded by police and _very_slowly_ herded towards Hyde Park Corner.
They had been part of the hundreds who left Trafalger square at around 7.15 / 7.30pm - many breaking through police lines.
They had solid support from other demonstrators as well as from many people (shoppers / tourists etc) on Oxford Street who walked alongside on the pavement clapping in time, singing, dancing and cheering - there was also support from passing buses. Police at the back continued shoving the whole way along, and when the crowd supporting them seemed to be getting stronger the police began pushing people back and pulling several people into the cordon. After getting to hey were held at Marble Arch and slowly released after being photographed while supporters and press were threatened with arrest if they did not leave the area.
no bush