kriptick | 20.11.2003 23:33 | Bush 2003 | Anti-militarism | London
Lots of bonfires started to be lit in Trafalgar Square as the main protest was ending - at least 8 of them when I left so these pictures have a distinctly fiery feel to them.

The movie... (modem friendly MPEG1) - video/mpeg 266K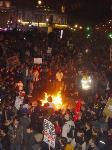 Just like any camp fire from the road protest days.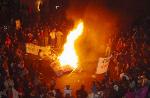 Now they're burning tanks on the streets of London. Fucking hell!
kriptick