rikki | 09.11.2003 17:57 | Indymedia | London | Sheffield
rhythms of resistance samba band and several pro-palestinian groups scored a victory against caterpillar in a protest in camden this afternoon. the manager of a chain of shoe shops agreed not to stock caterpillar boots anymore after he was made aware of the issues.
caterpillar is the company that also supplies bulldozers and tanks to the israeli army for use against palestinian people.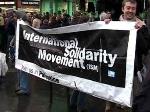 international solidarity movement banner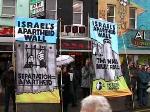 palestine solidarity campaign banner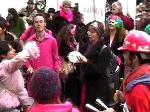 rhythms of resistance (joined by sheffield players)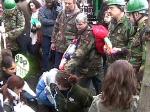 street theatre recreating israeli checkpoint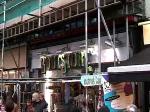 the bootstore - no longer stocking caterpillar - thanks guys!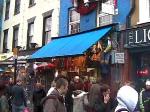 the other bootstore - supporting the boycott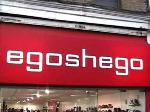 egoshego - the shop that refused to listen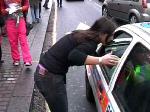 egoshego's manager complaining to police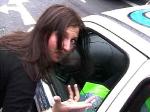 egoshego's manager spots the photographer
a co-ordinated protest in camden london this afternoon scored a great victory against caterpillar, the company that supplies the israeli army with bulldozers and tanks.
the owner of three 'future designs' shoe shops agreed to send back his caterpillar s tock with a letter to the company ezplaining his reasons for boycotting and refusing to stock their boots.
two of the shops are in camden high street at 212 and 257 - one of them is called bootstore, and the other a few doors down has a blue canopy with no visible name.
the director, shahid butt, and until today's demonstration was unaware of the connection between caterpillar boots and repression in palestine. he thanked the demonstrators and promised to remove all caterpillar stock as well as writing to the company to explain his decision.
if you are passing camden, go and thank these shops for their stance, and hey, maybe even buy some shoes from him :)
the instant co-operation of the bootstore management was in marked contrast to the attitude of the manager at EGOSHEGO across the road, who not only refused to listen to the protestors, but assaulted this photographer who was filming the non-violent, colourful samba action outside the shop.
please boycott EGOSHEGO, as this woman's attack was comp letely unprovoked - i was simply filming her making a complaint to the police - the police incidentally refused to accept my demand to press charges despite them actually witnessing the assault.
rhythms of resistance were joined by members of the sheffie ld samba band in this protest. meanwhile various groups including the palestinian solidarity campaign and the international solidarity movement took over camden high street with many banners in a wall design and street theatre recreating israeli checkpoints where palestinians are treated with inhuman disregard and brutality.
the protest was due to continue to trafalgar square for a ritual tearing down of the wall. today's protest coincided with the fall of the berlin wall thirteen years ago, and also ironically the anniversary of kristalnacht in 1938, when jewish businesses were smashed in germany signalling the denial of jewish participation in public life and marking the climax of a policy of exclusion and ghettoisation.
at a time when many are disillusioned about protest and when millions were ignored over the iraq war, today showed how effective protest can be. please bear this in mind, and come and show your disrespect for george bush when he does his insulting state visit here in ten days time - find out about protests at:

http://www.campaignagainstclimatechange.net/

http://www.resistbush.org.uk/

http://www.stopwar.org.uk/
rikki