pnw | 12.07.2003 10:46 | Anti-militarism | Globalisation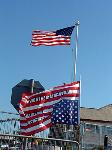 American Independence Day, 4th July, was celebrated this side of the atlantic as people gathered at US military bases to issue a 'Declaration of Independence from American Militarism' (read
full text
).
Hundreds of campaigners from
CAAB
(the Campaign for the Accountability of American Bases) and several anti-war groups held a Gatecrashers Ball at the US's Menwith Hill Spy Base, in North Yorkshire (America's leading spy base outside the US which played a crucial role in both Gulf wars. It is also central to plans for the "Star Wars" National Missile Defence programme). Dressed in colourful costumes they were entertained with music from bands, sound systems and a samba band with comedy from the likes of Mark Thomas, while at the same time putting forward a serious message. There was strong criticism of chaotic policing as horses were delpoyed and a foot path closed - there were three arrests (see
witness appeal
).
See
CAAB Statement
and Reports:
1
,
2
Pics
1
2
3
4
USAF
Fairford
in Gloucestershire, from where US B52s launched bombing raids on Iraq, also had its own colourful Gatecrashers Ball protest. See Pics
1
,
2
,
3
and
latest news
from Fairford. Independence day was also marked in Plymouth with street theatre. See
pics
and
video
.
Also see one hour
'radio' show
produced for Independence from American Militarism Day.
pnw