sunshine | 23.06.2003 13:05 | Culture | Free Spaces | Repression | London
Stonehenge Pictures - Sat 21st June 2003
Despite English Heritage opening "on the wrong day" and saying that people would only be allowed into the stones at 2am, a record 27-30,000 people attended the celebration.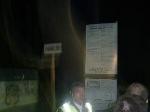 "rubbish / conditions of entry!"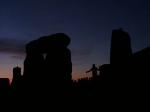 stones against the lightening sky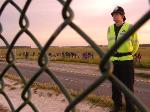 people on all sides of the fence
Quick report on one of the arrests at stonehenge:
At very nearly 6am a man who someone said had just jumped over the fence between the stone fields and the road running alongside by the English heritage centre was grabbed by a policeman who had shouted at him and run up the road after him.
Another policeman also ran up and appeared to be trying to calm the other police man down.
The man then threw his bag over the small fence and jumped into the neighbouring field which had many people in it, calmly walking off. But the first policeman jumped over the fence too, following him ino the field and talking to him.
They walked on a little before we witnessed the policeman and another officer who had approached from the other direction wrestle him to the ground, soon joined by a third who held him on the ground as people in the main stonehenge field shouted "leave him alone" and "let him go".
Soon he was led off hancuffed back up the road towards english heritage centre which was being used as a police hq as more police arrived on the road and inside the stone field to deal with the crowd now gathered at the fence.
Officer 1373 explained to the crowd now gathered at the fence that the man had been arrested because he had refused to give his name and address when told he would be issued a summons for criminal damage for jumping over the fence!! Everyone present thought this was just plain ridiculous and that the main policeman involved had been spoiling for a fight (indeed this police officer (with badge number something like W*142?) was later seen being aggressive to other people and shouting at people calling them things like "fuckwit").
----
The other pics are general solstice ones - fuller report to follow...
sunshine