It's been a busy year for activists and grassroots campaigners in Oxford. Peace campaigners have kept up the pressure on the war-mongers, including those at AWE Aldermaston and BAe systems. Campsfield Detention Centre has remained a target for people opposed to the inhumane treatment of migrants. And, of course, the anti-cuts movement has grown from strength to strength closing down shops, occupying buildings, and bringing angry people out on the streets.

Anti-cuts march
Peace
Aldermarston, Trident, and BAe were all targets.
Hundreds blockade nuclear bomb factory | Women In Black Are Back! | Trident protest held inside Parliament | Gaza protesters receive Met police payouts | 3 Catholic Workers Arrested after Break-in at AWE Aldermaston | Warhead Lab Plans Prompt Blockade of Nuclear Weapons Factory | War recruiters disrupted in Oxford | Smash EDO visit Oxford | Oxfordians protest against Trident | BAe confronted in Oxford

Blockading the Atomic Weapons Establishment at Aldermaston
Climate Justice
Tar Sands seemed to be the main target this year.
Climate Protestors in Court Following Defacing of Canadian Flag | Another Shell recruitment event disrupted | BP not welcome in Wantage and Grove | BP hit by tar sands protests in London, Brighton, Oxford and Cambridge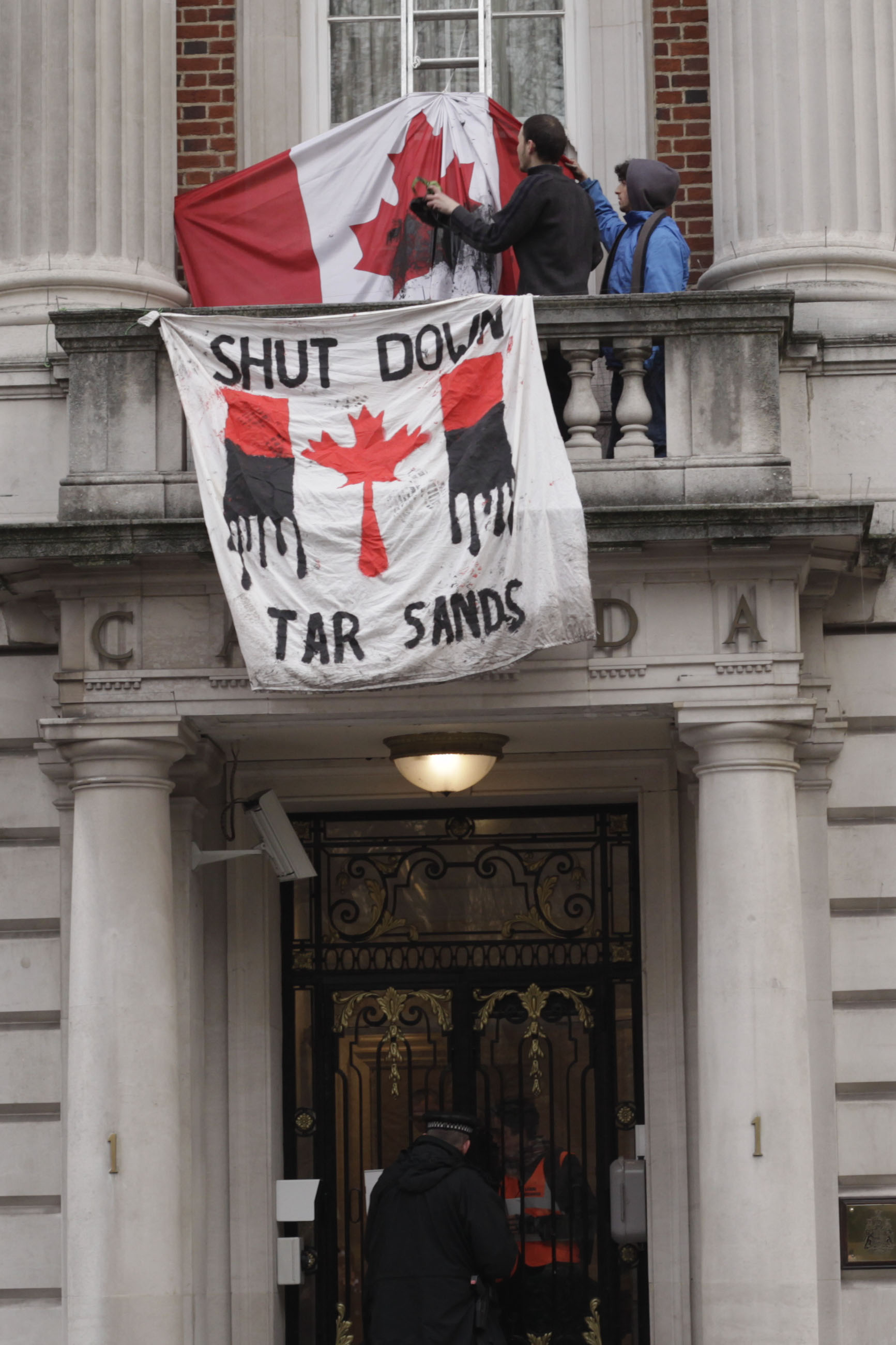 Protesters at the Canadian Embassy
Public Sector cuts
Temple Cowley Pools were already under threat of closure, now lots more is. Resistance has grown rapidly, especially amongst students. Politicians and tax-avoiding businesses have all been targeted, as well as the largest street demos since I don't know when.
Save Temple Cowley Pools | NHS and Councils pull plug on homeless project | Reading Joins The Resistance | Anti cuts demo escapes police control in Oxford | Over a thousand on the streets of Oxford protesting against public sector cuts | Protest against education cuts takes over Oxford high street | Vodafone protest in Oxford | Oxford Vodafone Shop Shut Down by Protestors Outraged by £6bn Tax Dodge | Are top Lib Dems too yellow to come to Oxford, say chicken protesters | Report on Today's Oxford Anti-cuts demo | Oxford antiCuts protestors close Vodaphone and Banks | Day X2- EPIC demo hits Oxford | Oxford students occupy County Council and Castle Hill | County Council chief shows true colours | Oxford Top Shop targeted in tax dodge demo | Uninvisible Rally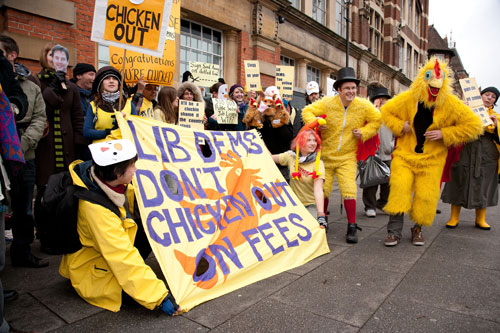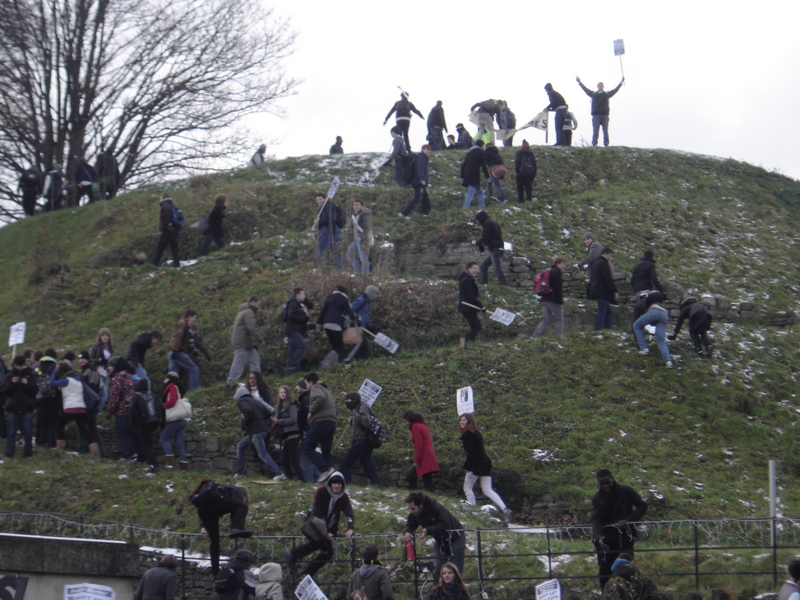 Lib-Dem chicken demo; Castle Hill
Protests on the day of the Public Sector Spending Review
Oxford Citizens Protest Cuts on Carfax Tower | Rally against the cuts in Oxford | Video of an economist's views of cuts in Oxford | Video views of public sector cuts in Oxford
Radcliffe Camera occupied
Occupation of Radcliffe Camera, Oxford | Rough guide to student occupation so far | Radcliff Camera Occupied by Students in Oxford - Statement | Oxford occupiers re-energised by extra people | THE Oxford Education Campaign Occupies The "Rad Cam" | Oxford occupation evicted | Notes from an Occupation

Rad Cam occupied
Migration
Campsfield remains the main target for protesters.
Demo boosts spirits at Campsfield House
|
escape from Campsfield ends in recapture
|
Jimmy Mubenga not forgotten in Oxford
Hunger Strike at Campsfield
Campsfield House Detianees on Hunger Strike | Campsfield Hunger Strike Update | Chanting and banging heard at Campsfield migrant prison | Campsfield detainees release second statement
And lots more
Including ...
Election posters subverted in East Oxford | Sabotage at pumping station | Reclaiming the Oxford Night | Photos: Oxford Reclaim The Night 2010 | New social centre opened in Oxford! | New Oxford social centre evicted!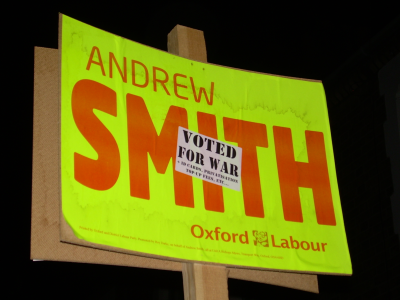 Subverted poster
Looking ahead ...
With more established campaigns such as the peace movement, climate justice, and migration continuing and newer campaigns around public services growing by the day it looks like 2011 will be an even busier time for activists.
Don't forget to post and read the latest grassroots news here on Indymedia, or even get involved.
Now get off the Internet and get on the streets.