Various election posters were subverted in East Oxford tonight to remind people with short memories of the blood our politicians still have on their hands.. Many other posters have mysteriously disappeared.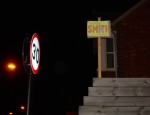 many received similar treatment
Andrew Smith, the local Labour MP, consistently toes the party line, but at the last election he almost lost his seat, probably as a reaction by voters to his support for the war. Since then he has frantically tried to garner some local approval, making a token rebellion vote against the renewal Trident, for instance.
He wants us to forget his part in the invasion and occupation of Iraq, and the million or so people that have died as a direct result. No chance.
Not that the other parties are any better. A ridiculously large Lib Dem sign was targeted to highlight their hypocrisy and deception - the most recent local example being their much-publicised claim of 'support' for a campaign against the closure of a local swimming pool, while voting in *favour* of its closure at council meetings! Did they think we wouldn't notice??
Our desires will never fit in your ballot boxes!