On Monday night, 19 May, the former Wilco building on Mill Road (the very site where Tesco want to open a new supermarket) was squatted. On Tuesday afternoon, acting on a 'tip off' from a neighbour, armed police entered the premised on the pretext of looking for illegal drugs. There were a total of three police cars, a police van, and at least eight officers. The premises were searched, but no illegal substances (bar a supermarket trolley that was already on site) were found.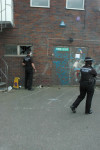 Police hang about while colleagues search the building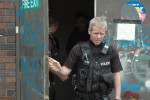 Nothing is found, so police leave empty handed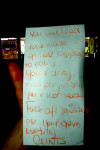 This complaint was received from the neighbour who contacted police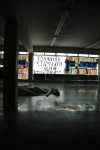 The building is now being turned into a social centre. Tonight (Tuesday) there will be a big clear up, before the space is spruced up with some furniture. There are plans for a cinema corner, an activity corner, and a space to hang out and drink coffee and tea.
Please come and help with the clear up or donate some furniture, rugs, etc.
The squat or the social centre are not connected to the No Tesco on Mill Road campaign, but will create a more useful, positive role for the building.