1:00 PM, the Grafton Center, Cambridge
In a funny but disturbing display of hostility, Grafton Centre security guards under the watchful eyes of mall managers grabbed anti-sweatshop literature out of the hands of mild-mannered protesters, forbid the use of video and still cameras, and triumphantly dismantled the sinister May Day picnic apparatus inside the mall. A potentially violent mob which was handing out pink "No To Child Labour" balloons to passing children was also suppressed with ruthless effectiveness.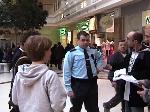 Picnic 1 [Can I see your papers?]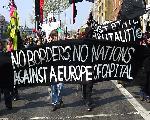 This one's from Dublin but it's cool anyway
When a demonstrator with a video camera refused to stop filming the childlike actions of the security guards confiscating literature, he was set upon by three security guards and the exodus began. A total of eight demonstrators were grabbed and hustled out of the mall, to the consternation of shoppers and management. As the Picnic Mob arrived outside at the bus stop entrance one by one, the protest gradually reconstituted itself at the entrance. The police then arrived and said that they were telling us to disperse under Section 14 of the Public Order Act, because 20 people outside the mall entrance giving away free brownies and balloons was a "serious threat to public order." [No kidding, we're not making this up!] At the instigation of the mall manager, the demonstration was marched off Grafton Centre property, past a waiting police van filled with another dozen or so constables ready and waiting for the word to do battle.
By about 1:45, the picnic was happily set up outside the main entrance to the Grafton Centre beside the Cooperative Bank, under the watchful eyes of the combined mall/police security forces. The demonstration, which included juggling, dancing, free food, people reading books, and other non-shopping activities, was finally vanquished by 3:00 pm GMT.