After the recent hacking that took place on EDL's Zetaboards forum.
Hackers have again compromised the EDL and have taken down their actual website.
You can see the hack in action here,

http://englishdefenceleague.org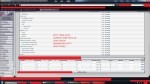 Just a few days ago it was reported that 'Team Posion' took the EDL's main communication point. An IndyMedia article can be seen here,

http://birmingham.indymedia.org.uk/2011/02/473478.html
Hackers claim to have deleted everything from the EDL site. The defacement reads out: "Thers no place for rasict zionist supporting liers like the EDL in england, i have infomarion on the EDL Leadership, the EDL Donators, the customers of EDL Clothing, the forum users and forum staff, the information includes names, addresses, phone numbers, emails etc - All Info will be Leaked soon."
We hope the EDL can comment on these recent events to ensure public assurance.
The hackers once again, seem to have deleted everything from the EDL website. The following screen dumps were made available to the general public soon after the hacking.
Here's the data that was leaked recently,

http://operation-takedown.net/EDL/EDL.txt
Partial data provided by Team Posion for IndyMedia article,

http://nightshadow.pastebin.com/raw.php?i=GQPhgHLr